Sarah:
Hello, I'm Sarah Carson, Rohrer's VP of Marketing. Today I brought together two experts from our company to talk about heat seal tooling. Brian Gaffney is Rohrer's Heat Seal Supervisor. Brian works hand in hand with our design team to ensure the success of our customers on ezCombo packaging projects. And then Chad Neild is a Regional Account Manager. Chad works with a variety of National and Regional brands based in the Midwest.
Chad and I, actually have some questions for you, Brian. As the Heat Seal Supervisor, and we'll just start out by asking – Brian, could you please give us a quick definition of heat seal tooling?
Brian:
I would say heat seal tooling is defined as interchangeable tooling components that we produce that are installed on the customer's equipment to put together their packaging. It's as simple as a sealing tray or a nesting tray that they install in a manual shuttle machine where everything's fed by hand; and it could be as complicated as a bunch of auto-feed tooling components for say a carousel machine [where] they have 20 sealing fixtures and they auto feed the blister and the card, and they eject it from the machine.
Chad:
Okay. Brian, when a customer is thinking about the design process and the steps to get the heat seal tooling involved, what would be the best time to have the conversation in the steps to get involved with the design team?
Brian:
Usually the earlier the better. Earliest portion of the concept phase. The reason for that being is that we'd like to look at the prior design. Not only of how it actually captures the product; but how it's going to be able to actually function on their packaging equipment. So certain customers might have a certain level of expectations of efficiencies. We like to look at the initial designs to make sure that we're incorporating some of those features to ensure that we're putting our best foot forward and they'll have the best chance for success.
Chad:
When you're building the tool, what do you specifically need to start the process?
Brian:
Well, to start the process first and foremost, we need to become familiar with the customer's equipment. So, that will require some documentation. Now, we make tooling for just about every single packaging manufacturer — heat seal tooling manufacturer of equipment. None of those machines are made identical. So seeing those machines first hand and having me be able to visit a customer's facility and take those measurements myself is usually the first step. So we can take those measurements and have them catalog. So we know everything we need to know moving forward in order to produce to them.
Chad:
Each machine needs to be documented, but it would just typically be a one-time occurrence per machine.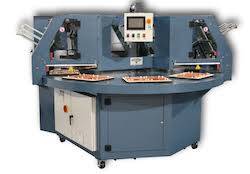 Brian:
Yep. A one-time occurrence. When we go there to measure specific heights and any particular features that a customer might require for their tooling.
Sarah:
How has that changed with travel restrictions this summer?
Brian:
Well, we've had to become just like everybody else. I had to become a little bit more creative. Onsite visits are not really possible at this point. So to supplement that, we can have a customer send in the current set of tooling to our location, so I could take those measurements firsthand. I do that documentation within 24 to 48 hours and send it back out to their facility – so they get it back in time. The other method would be to have a customer take pictures of their equipment and their feeding stations and send that to me directly. So I can then in turn mock those up or mark them up with a particular dimension. We have made tooling again for many different machines and some of the measurements are similar, but it definitely does vary from machine to machine. So we would like to be as accurate as possible.
Chad:
And even a process like this Brian, where we're having an online meeting? I know we've had a couple of successful opportunities where we've had some customers take their phones right up to the machines and do exactly what we're doing today. Anytime we can get an opportunity to get that live data, it certainly helps the entire process.
Brian:
Yes, and as I just said, Chad, it's a one-time process. As soon as we have that information and we know the heights and set up, and which we're supposed to make the tooling we're using that moving forward.
Chad:
What kind of crisis can be prevented if we get you involved early?
Brian:
Many! It could be as small as say something not running as efficiently as it could, or there's occasional auto feeding issues that didn't necessarily need to be there. But it could be as complex as not being able to actually seal the type of package the customer wanted with their equipment. So it could be as bad as having production blisters and cards and everything set up and ready to go. And now we find out after the fact that – that it is not going to work and something's going to have to be revised.
Chad:
Rohrer does also have a technical service assistant by the name of Mike Miller, who does step into the field occasionally when needed. So if situations do arise where there's some opportunities to have our eyes directly on the machinery at the time when the heat seal tooling is there. Mike can do all kinds of analysis from taking a heater temp, interface temp, pressure, anything that could do to either help the process of manufacturing or increase the throughput. So, you know- there is still that secondary opportunity to look at situations as they arise in the field as well.
Brian let's talk about a little bit about the timeframe. I know I get this question asked a lot. What does the timeframe for Rohrer today look like for creating a heat seal tool, from start to finish?
Brian:
From start to finish, our current lead time is 12 working days. That's after we have all the information and purchase orders in hand which is the same lead time for our ezCombo™ program. So those go hand in hand, and they're shipping out together. Within the first few days of receiving the order, that'll give our designer some time to review the package, begin the layout process, and put together a placement drawing (a blister, and card placement drawing). Kind of confirming what we're going to be, what we're going to be designing, and what the tooling is going to look like. So it's not just the drawing of the blister and the card together with those detailed dimensions of where they want to locate it. We also have notes about the design of the tooling, the number up – anything out of the ordinary to bring up to a customer's attention so they can be consulted in review and approve that before we start machining tooling.
Chad:
Okay. Excellent.
Sarah:
Chad, thanks for bringing some great questions to the conversation today. And Brian, thank you so much for sharing some of your expertise on heat seal tooling. I appreciate the time with both of you guys.
For more information on heat seal tooling or to speak with a sales representative, click here.