What is Clamshell Packaging?
Clamshell packaging is a hinged plastic container that completely surrounds the product inside.
Clamshell Tooling Options: Stock or Custom?
Clamshell packaging is typically made into a thermoformed plastic cavity so the product inside is easily visible.
Once you've determined that clamshell packaging is ideal for your product, it's a matter of deciding on stock TransClam tooling, stock TransClam tooling with custom inserts, or custom tooling. In product packaging, "tooling" refers to the aluminum mold set and cutting dies that are used to form and cut the clamshell during the thermoforming process, so we can bring your clamshell vision to life.
Not sure what type of tooling you need for your clamshell packaging? There are several factors to consider, including volume, protection, product differentiation, time to market and budget.
Let's determine the right type of tooling for your clamshell packaging: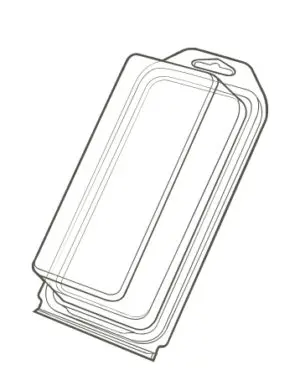 At Rohrer, the Stock TransClam Tooling Program includes a series of pre-made, clamshell tooling in standardized sizes, shapes and styles. Stock TransClam tooling is ideal when your brand prefers:
Basic or standard packaging look
Some product protection
No tooling cost
Minimum quantity runs
Faster lead times
Streamlined estimation, design and production
Standard sizes, shapes, and styles
Plans to sell less than 10,000 units annually
Click here to see the wide variety of clamshells, blisters, boxes, rounds and folding cartons offered in our Stock Packaging Catalog. 
Stock TransClam Tooling with Custom Inserts
Think of stock TransClam tooling with custom inserts as a combination of Rohrer's stock and custom tooling programs. A clamshell has two sides. You could utilize one of our standard or stock clamshell forms on one side and a custom insert or cavity on the other side.

This type of tooling is ideal when your brand prefers:
Upgraded packaging look
Increased product protection
Moderate tooling costs (only paying for custom tooling on one side)
Greater quantity runs
Lead times of approximately three weeks
Variety of packaging sizes, shapes and styles
Click here to download our TransClam Sizing Chart to see if one of our affordable stock options might work for your product.  
Your brand may prefer custom tooling, so the clamshell package fits your product form "like a glove." If that is the case, our engineering and design team will work closely with you to develop custom molds and dies specific to your brand and your product line. Click here for more details on our Custom Tooling Program.
Rohrer Can Bring Your Clamshell to Life with Stock or Custom Options
Clamshells are a great packaging option because of the versatility. Rohrer can help you develop PERFECT PACKAGE whether its stock or custom.
Let our team of designers and engineers create an innovative clamshell package for your brand at Rohrer. Contact us today!