What is ezCombo®? Only the EZ-iest Way to Streamline Your Packaging
Rohrer's ezCombo® program is a unique manufacturing solution where several different printed or plastic (thermoformed) packaging pieces are created as a combo-run. Basically, it streamlines the packaging process by combining the orders of several customers on one production run. This shared tooling arrangement increases speed, reduces start-up costs, and minimizes set-up times for all customers. And you only pay for the space you need. See, the ezCombo® program is EASY!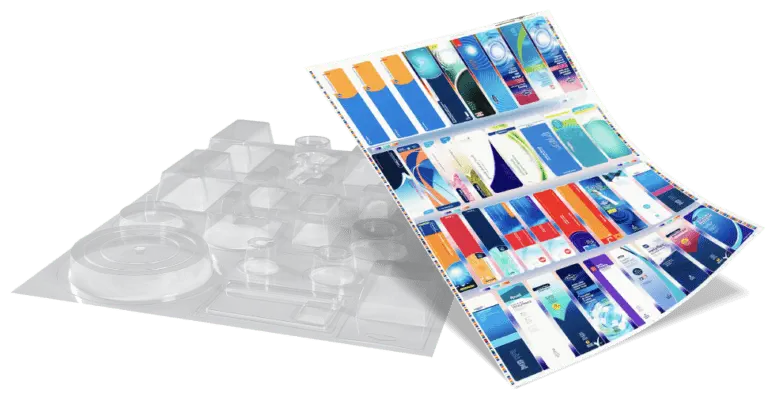 What Types of Packages are Eligible for ezCombo®?
ezCombo® can be used on your printed or plastic packaging. As the industry's largest combo program, ezCombo® is offered for a variety of packaging styles, including: 
Sustainable Packaging Options: All-Paper Blister and ecoCombo

®

 
How Does ezCombo® Make the Packaging Process EZ-ier?
At Rohrer, we want to make it EASY for customers to do business with us. The ezCombo® program was designed to make the packaging process as streamlined, quick, affordable, unique, and flexible as you need to get your products to market. Some of the customer benefits include: 
It's Fast:

 With Rohrer as your one-stop packaging shop, we can help you expedite your time to market.

 

It's Affordable:

 

Maybe you don't need to buy a whole press sheet or plastic form of the same item. It's EZ-ier than ever with ezCombo

®

 because you only pay for the space you need. 

 

It's Customizable:

 Rohrer's ezCombo

®

 program can be used for several types of packaging, including 

blister cards/inserts

, thermoformed blisters, or 

folding cartons

.

 
It's Flexible:

 Our ezCombo

®

 program offers the lowest, most convenient combo quantities in the market for cards and blisters: 5,000 / 10,000 / 20,000 / 25,000 / 50,000 /100,000. 

And, with quantities starting as low as 5000 pieces, brand owners of all sizes can benefit without the worry of excess inventory.

 

It's Colorful without the Additional Cost:

 As the industry's first 7-color process combo for cards and cartons

, Rohrer's ezCombo

®

 program provides a wider color gamut than the normal RGB scale using Process+

®

, helping you save on costly PMS colors.

 

It's the Clear Choice:

 The 

AquaSeal

®

 aqueous and/or PakSeal

®

 solvent heat seal coatings provide brands with two clear blister coating choices for their packaging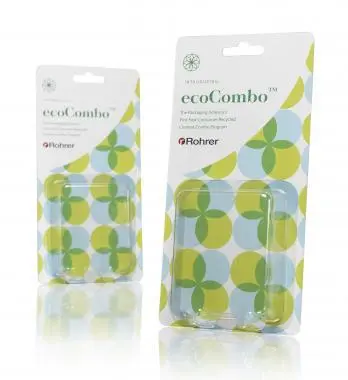 Is ezCombo® Ideal for My Product and My Market Niche?
Absolutely! Who's not into saving time and money on packaging production with ezCombo®? Rohrer has a large, diversified base of consumer product companies across many markets, including, but not limited to: 
School and Office

 

Home Improvement

 

Electronics

 
Batteries

 

Pharmaceutical/OTC

 

Automotive

 

Sporting Goods

 

Health & Beauty

 
Let's add your brand to the list! You'll be in good company.  
How Can I Create the COMPLETE PACKAGE at Rohrer?
ezCombo® allows you to STREAMLINE your packaging. Rohrer can utilize the ezCombo® program to create the blister cards/inserts and the thermoformed cavity for your product packaging all in one place. Heat seal and assemble. Ready to hit the road to retailers! Another way ezCombo® makes packaging EZ-ier.  
Rohrer offers the industry's largest combo program including blisters, cards, and folding cartons. Browse through the tabs below to find the right combo for your product.
Blister Packaging
Cards & Inserts
Folding Cartons
Blister Packaging
PVC Blister Combo
Available in 10, 12, and 15 mil
In-Line Labeling
Multi-Level Die-Cut
RPET Blister Combo
Available in 12 and 15 mil
In-Line Labeling
Multi-Level Die-Cut
ecoCombo

®

 Post-Consumer Recycled PET (50% PCR) Blister 

 
Available in 15 mil
Sustainable Packaging Option
Cards & Inserts
Folding Cartons
Interested in more details on Rohrer's ezCombo® packaging solution? We've made that EZ-ier too. Contact us today!