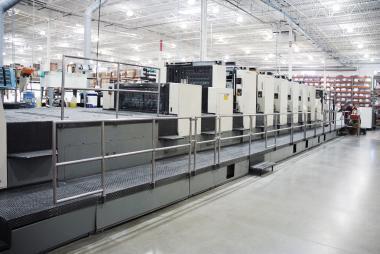 It's more than just ink on paper. It's a visual representation of your brand. And no one creates your brand look better than Rohrer. We use state-of-the-art manufacturing technologies to provide speed, quality and value to our partners.
Printing Capabilities
ezCombo™
The industry's largest combo program for blisters, cards, and cartons. Rohrer offers the widest variety of buying choices across 16 different print combos, starting at just 5,000 pieces. Please visit our ezCombo™ page for more information on our combo offerings.
Color Management
Color is a crucial element of your brand's identity. We offer incomparable multi-color management standards to protect color continuity across all facilities. Our dedicated color management staff collects color data and tests continuously to ensure uniformity in how your original image file translates to your printing project.
We measure attributes including hue, chroma, saturation, density, and tack to give our partners perfect graphic replication.
We convert art files to printing files and determine the optimum printing type.
We utilize PMS Spot Colors, 4-Color Process, and 7-Color Process printing to ensure consistency and brilliance on your package.
Process +™
Our cutting-edge 7-color process that adds Orange, Green, and Violet inks to the traditional CMYK inks. The addition of these three inks gives Process +™ the ability to reproduce Pantone® colors more accurately, and can replicate over 80% of the Pantone® Plus Series Color Guide versus only 65% with CMYK. Process +™ surpasses 4-color printing results and may also be a cost-effective alternative to spot color.
We offer Process +™ within both our ezCombo™ and custom packaging programs, making it a viable options for brands large and small.
Decoration Options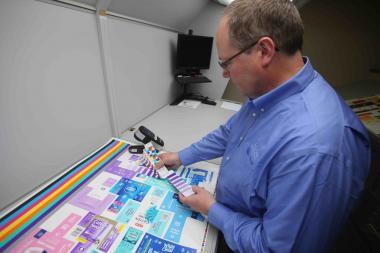 Design and decorating can drive retail sales by helping your brand stand out on the retail shelf. Rohrer's state-of-the-art printing presses allow us to apply effects in-line, saving costs while providing a high-end look or feel.
rFoil™ – An in-line cold foil application that is heat-sealable and affordable. Achieve a broad range of high end effects that add dimension to your packaging with the ability to overprint halftones, solids, and process colors.
rStructure™ – A textured coating applied in-line directly on top of the inks. rStructure™ creates a dimensional, embossed look that adds a luxurious feel and a new level of dimension to your printed package.
rTouch™ – An in-line soft touch coating used to create a rich velvety texture. The luxurious feel of this finish enhances your package by increasing the perceived value of your brand through an upscale tactile feel.
rMetallic™ – Powered by the Color Logic Design System™, rMetallic™ provides an incredible metallic finish to packaging. As many as 250 different metallic colors, plus patterns and effects can be produced easily and affordably in-line. Rohrer is a licensed reseller of the Color-Logic Design Suite™.
Paper and Plastic
Rohrer offers a variety of paperboard substrates. Please visit this link to learn more about our offerings.
Our capabilities include printing on plastic in some applications, like fabricated boxes.