Carded packaging includes any package that holds a product against a stiff paperboard backing. Blister cards are most commonly attached to a thermoformed plastic blister. Other options for sealing include using a plastic film or a mechanical attachment.
Benefits of Blister Cards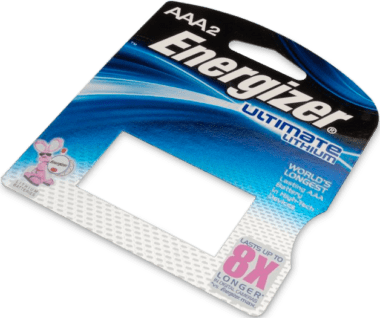 Branding Ability – It's about attracting consumer's attention and keeping it. High-quality printing

and the ability to add decorations make blister cards an effective way to promote your brand

. Ample billboard space also provides consumers with more information about your product.

Cost Effective – Cheaper than an all plastic package, paperboard provides a reasonably priced packaging solution. Rohrer customers can save even more through our ezCombo™ program.
Versatility –

Blisters,

clamshells

, bags, & pouch all need cards to complete your package.

 But, a paperboard card isn't a necessary evil. The card provides stability to the package, can include a hang hole, and is a strategic way to promote your brand.
Types of Carded Packaging
Single-Seal Blister Card – Available in a variety of seal types, a single-seal is coated and heat-sealed to a thermoformed blister part. Is also available in tear-resistant material. Seal coating can be applied to the face or the back, depending on package requirements.
Trapped Blister Card – The preferred packaging style of club stores, this card type consists of one hinged or two separate, sealed cards, with a die cut to trap a blister flange between the two sides when sealed. Fluting the cards will increase the package's sturdiness.
Fold-Over Blister Card – A hinged card that can either be sealed to create a trapped blister or to create a book cover effect for the front of the package, allowing for maximum billboard space.
Skin Board – A cost-effective alternative to clamshells and blister packaging, skin packaging is created by placing the product on a rigid paperboard backing, and covering it with a fitted transparent film.
Insert Cards – Printed cards that are non-heat sealable. Most often found in clamshell packaging.
Header Cards – a folded card that fits over the opening of a bag or pouch. Most commonly used in hang hook displays, card can be attached via staples or adhesives.
Printing and Decorating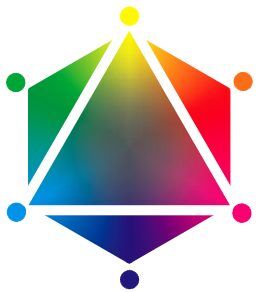 Process +™ – It's about getting you the marketing "pop" that your product needs in a format that makes sense for your business and your budget. That's the essence of what Process +™ is all about. This revolutionary technology enables us to reproduce your brand colors using a fixed ink set consisting of 7 colors (CMYK+OGV). The addition of orange, green and violet (OGV) inks expand the gamut and more accurately reproduces Pantone colors vs. traditional CMYK.
rFoil™ – Transform your package from ordinary to extraordinary with the dazzling effects of our unique heat-sealable foil. rFoil™ is an in-line cold foil application that is affordable and heat-sealable. Achieve a broad range of high end effects that add dimension to your packaging with the ability to overprint halftones, solids, and process colors. As an added bonus, cold foil is 100% recyclable.
rStructure™ – a textured coating applied in-line directly on top of the inks, that creates a dimensional, embossed look. Use rStructure™ to add a luxurious feel and a whole new level of dimension to your printed package.
rTouch™ – The luxurious feel of this finish will enhance the look of your package and increase the perceived value of your brand. Rohrer's rTouch™ is an in-line soft touch coating used to create a rich velvety texture. Not only do surfaces appear svelte and sophisticated, but the soft feel adds an upscale tactile element to your package.
rMetallic™: Powered by Color-Logic – rMetallic™ allows you to develop impressive, consistent packaging with an incredible metallic finish. As many as 250 different metallic colors can be produced easily with the use of just five inks and without the expense on specialty materials or off-line processes. Rohrer is a licensed reseller of the Color-Logic Software.
ezCombo™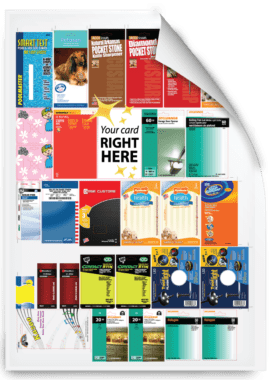 The Rohrer ezCombo™ program provides industry-leading speed, quality, and value for our partners. Our ezCombo™ program provides cards and inserts in 15 days, improving your company's speed-to-market, while providing the same quality as a dedicated run.
Why ezCombo™? Below are some of the reasons why our customers choose our program:
Lowest quantities in the industry, starting at 5,000.

The industry's first 7-color process combo for cards, with the ability to expand the color gamut and more accurately reproduce more of the Pantone Plus Series Color Guide

Warehousing available to provide you your packaging when you need it.
Carded Packaging Development Process
Creating a blister card doesn't have to be difficult. We've laid out the process here to give you a better idea on what to expect from ideation to the final result.
1. Project Kick-off
Email, conference call, or in-person meeting to review:

Product
Existing Blister & Card
Drawing or Electronic File
Card Dimensions
Special Features
Hang-Hole Type
2. Prototyping
Customer submits the product sample or prototype and purchase order
Our design team creates prototype and tests form, fit, and function
Aluminum mold is created and tested
Card die-line is completed and sent to customer to add artwork
Card white samples are sent to client for approval
3. Pre-press/Tool Development
Client submits approval of carded packaging and releases purchase order for card production
Client reviews and approves digital proofs (optional press approval for blister cards)
Production of cards are 15-20 working days from P.O. and proof approval
4. Part Production & Fulfillment
If part meet the parameters of the ezCombo™ program, our team will add the blister card part according to material type, package type, and quantity. For all other blister projects, the dedicated tooling is created and scheduled for production
Blister cards produced and packed for shipment
We ship blisters, cards, and heat-seal tooling to client
Best Industries for Carded Packaging
Being an important piece and blister and clamshell packages, carded packaging is found in almost every industry. Below are some of the industries that will find a use for blister, header, and insert cards.
School & Office
Health & Beauty
Hardware
Electronics
Sporting Goods
Crafts & Hobbies
Toys
Packaging Solutions
Find the right packaging solution to showcase your product.
Click on a packaging style to learn more.