Rohrer's ezCombo® program is a unique manufacturing solution where several different printed or plastic (thermoformed) packaging pieces are created as a combo-run. For plastic packaging components, like thermoformed blisters, ezCombo® can significantly reduce costs.  
It makes sense if you think about it. Similar jobs from multiple customers run together with ezCombo®. Rather than applying production costs, like tooling, plastic, thermoforming machine set-up, etc. to just one job, those costs can be shared by many jobs. AFFORDABILITY. Just one of the perks of ezCombo® thermoforming.  
What Types of Packages are Eligible for ezCombo®?
ezCombo® can be utilized for PVC and RPET thermoformed blister packaging. Scroll through to find the ezCombo® packaging that's right for your brand.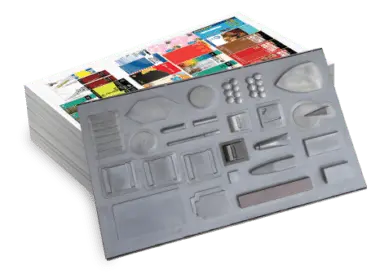 Looking for blisters cards or folding cartons? Click here to learn more about our ezCombo® print offerings.
Blister Packaging
PVC Blister Combo
Available in 10, 12, and 15 mil
In-Line Labeling
Multi-Level Die-Cut

RPET Blister Combo
Available in 12 and 15 mil
In-Line Labeling
Multi-Level Die-Cut
ecoCombo

®

 Post-Consumer Recycled PET (50% PCR) Blister 

 
Available in 15 mil
Sustainable Packaging Option
Interested in more details on Rohrer's ezCombo® packaging solution? We've made that EZ-ier too. Contact us today!