The Challenge: Star Power Brand Refresh
We're all consumers. But when it comes to walking down the aisles of your 'go-to' retail stores…what catches your eye? Answer: the products that are visible through their see-through packaging, commonly called blister packaging.
Retailers know this and give preference to products that have star quality in both looks and brand recognition. So, CPG manufacturers are continually challenged in how they can boost their star power and visibility on store shelves. This is true even for well-known brands that enjoy category leading status in the marketplace – like a pen manufacturer.
From a CPG marketing perspective, rebranding is a complex, risky process. You're revamping promotional design, ad campaigns, and logo treatments. And when you add a packaging redesign into the mix, you have raised the stakes even higher. And that's exactly when the pen manufacturer, Writing at Newell Brands, gave Transparent Container a call. They had already established a win-win relationship with us in the past, so they had full confidence as their partner moving forward.
Welcome to Project Harmonization
The kickoff meeting brought together the best of all worlds from marketing, design and production. It was there that the full scope of the project was laid out on the table for all stakeholders to discuss. As it soon became apparent, this was not your typical 5-blister-design- turnaround – where a project drops on a designer's desk and samples are sent out for review within three days. Not by a long shot.
The major pen manufacturer wanted to rebrand and repackage their entire product line. Working the math, that translated into approximately 25 new blisters for 100 SKUs in two months. And one more requirement…include a blister card for added billboard space. Synchronization and communication (or harmonization) from all teams would be mission critical for success. Although this was a tall order, Transparent Container knew that they could deliver on-time and on-budget for several reasons.
First, all stakeholders were involved at the earliest meetings. This was crucial for setting timelines and expectations for the sheer breadth and scope of the project.
Second, everyone understood that strategic package design includes branding, marketing, AND efficient production. The new package communicates the brand promise and marketing benefit messages—and delivers them on time.
Third and most importantly, Transparent Container had already established a successful working relationship with the company from past projects. And the secret of that success had everything to do with open communication and collaboration between Transparent Container and the client as design – followed by production that quickly kicked into high gear.
The Production: Fewer Blister Designs, Bigger Savings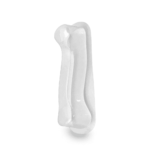 During project planning, some unexpected challenges popped up. But thanks to the great back-and-forth communication, obstacles became opportunities to create solutions. [Spoiler Alert: Superhero best practice ahead!]
Challenge: How to map out a massive project with a short lead time of just two months? Solution: Schedule realistic milestones and meetings to monitor progress.
The workflow was designed in stages so that there was an ongoing design and approval loop to maximize efficiency. After the initial meeting, the customer received engineering drawings within three days. Once the drawings were approved, they were machined, and samples pulled for a final client green light. We repeated this process for every product group included in the project.
2. Minimize the number of blister designs
Challenge: How do you go from 100 SKU's to 25? Solution: Collaboration and group consensus from Day One led to creative solutions like consolidating blister designs.
The next challenge was to get buy-in on how to group a wide variety of different-shaped pens into platforms that shared a similar a geometry…without compromising the new brand look.
By grouping them together into platforms that would fit a single blister cavity – the SKUs were reduced to 25. And fewer unique blisters translate into time savings and reduced tooling costs – from the prototype design to the store shelf.
3. Maximize production time and machine utilization
Challenge: How to increase efficiency on the production floor? Solution: Minimize the number of machine changeovers.
Next came "The Great Machine Switchover Challenge." From an automation perspective, this could have been a major obstacle on the customer's production floor. Each blister design requires unique heat-seal tooling that secures the blister to the blister card. Switching between tools would eat up valuable production time. By reducing the number of designs and grouping them into platforms sharing a universal cavity, fewer machine 'swap-outs' were required.
SUPERHERO MOMENT: We pride ourselves on design expertise with built-in versatility. This also applies to thinking outside the box of standard process protocols, especially if it leads to streamlined efficiency. For example, instead of the usual machining a mold and pulling samples – a process that can take weeks – we had an idea. Why not utilize a 3D print as a sample shot? This put the proof in the customer's hands within hours instead of days, allowing them to give instant approval on the universal blister pack geometry.
Results-to-Date
"Project Harmonization" proved to be a winning model for taking a multi-disciplinary, complex challenge and producing positive results. Most notably, they stated that "…costly manufacturing down-time was decreased thanks to machine changeovers…" Looking back, there was nothing really 'confidential' about how Transparent Container builds success into everything we do. For Writing at Newell Brands, open communication and collaboration, fast response times, super-hero moments and efficient production fueled "Project Harmonization" every step of the way.
---
Want to learn more Strategies to Improve your Packaging Processes?
Sign up for our blog to receive the latest updates straight to your inbox!