A brand owner is bringing a new product to market. The packaging goals include product visibility with plenty of billboard space, efficient use of shelf-space, and low-cost for a small run. In walks blister packaging. A blister package secures the product between a thermoformed plastic part and a printed paperboard blister card. Relieved and excited, the brand owner straps in for a successful launch.
Brand owners have long-turned to blister packaging to achieve many of their packaging goals, and combo programs have improved their performance more than ever before.
What is Combo?
Combo thermoforming is a production solution for blister packaging. Rohrer creates a shared tooling arrangement for customers with common quantities, helping increase the number of thermoformed parts per run, while reducing the start-up costs for everyone. We offer a similar program for combo cards and cartons. We design press sheets with many different packages on the same sheet.
Rohrer named our combo program ezCombo® because we aim to make it easy for our customers to do business with us. It's an effective program for a surprisingly large percentage of our packaging partners. We offer the industry's widest variety of buying choices, including multiple card and blister gauges, choice of coating, in-line labeling, and specialty printing like Process +™ (7-color process) and rFoil™.
What's New for Rohrer Partners?
Through our recent acquisitions, we have focused on enhancing our value offering to each and every customer by leveraging additional thermoforming capacity, expanded product range, and the industry's largest combination run program for printed and thermoformed packaging products.
Every blister needs a card. By harmonizing our industry-leading combo programs, we provide our customer partners with a simple program to purchase both cards and blisters. Our available ezCombo® quantities are 5,000; 10,000; 20,000; 25,000; 50,000; and 100,000.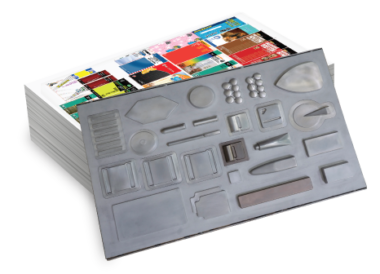 With simple and straightforward quantities and pricing, we provide many benefits for our customers:
Improve efficiency: Whether you're planning a new product launch or re-ordering packaging for a legacy product, Rohrer provides a one-stop-shop for your carded packaging needs.
Reduce touches: Harmonized quantities helps alleviate the work your team puts in to complete a packaging project. Each "touch" creates a potential error, and reducing the number of touches on a packaging project helps control costs.
Process +™: The only commercial 7-color process combo available on blister cards and cartons. A cost-effective alternative to spot color, able to reproduce over 80% of the Pantone Plus Series Color Guide versus 65% with standard CMYK.
Increase speed: Harmonizing our quantities helps Rohrer increase our speed in bringing your packaging projects to life. Our improved speed helps you get your products to market faster, too!
Better value & ROI: Avoid project drag and save costs by engaging with the industry's largest combo program. Get your products to market faster, and build your brand and bottom line. For some of our partners, the new quantities presents a change with how you do business with us. We believe the change will help our partnership grow. The new blister quantities go into effect April 3, 2019.
Is
ezCombo®

 a Match for My Project?

Together, we can determine whether your project fits within the ezCombo® program with a quick review of your product size, product and printing complexity, and desired package quantities. Assuming your project needs and the ezCombo® parameters are a match, we'll move forward with the program.

Each ezCombo® program begins with a project kick-off. The kick-off method is based on your preference and may take the form of an in-person meeting, conference call, or an email questionnaire. In the kick-off, representatives from our design and customer care teams meet with you to discuss your product, any existing packaging or drawings, special features and packaging goals. A comprehensive kick-off helps ensure our prototyping and pre-press approvals are as seamless as possible.

Rohrer also offers heat-seal tooling. We work with all OEM heat seal machines, and we offer tooling and technical assistance.

When ezCombo® isn't a match, we recommend custom packaging. Although most of the projects we produce fit within the ezCombo® scope, there are a variety of reasons custom packaging might be right for you. Some examples include:
Extremely complex shapes with undercuts
Specialty treatments or coatings, including rStructure™, rFoil™, rTouch™ or press-seal
Requires UL or GMI certification
Very large quantities
Our team of award-winning designers recommend the best possible packaging solutions to achieve your packaging goals.
See if
ezCombo®

 Is Right for You:

Existing Rohrer customers can request a new quote for their packaging projects by contacting your sales representative or calling 888-449-8520. New customers can start the process with this simple form:

Rohrer believes true partners make the perfect package. Our award-winning team uses state-of-the-art manufacturing technologies to provide innovative packaging solutions and value for our partners. We offer a wide variety of custom packaging solutions and the industry's largest combo program to help our partners build their brand and bottom line. Rohrer is headquartered in Ohio, with locations throughout North America.