Over my years in packaging, I have learned a lot from my customers. Finding the right vendor relationship is critically important. For many companies, their key vendors may be just as important as the people they work with on their internal teams. The idea of assessing the supply chain and choosing a new vendor can be daunting.
In your business, you may use documented methodology or a gut feel. Your assessments may be on a rigid fiscal calendar or you may review options project-by-project. For a large investment in your brand, you may use a formal RFP process.
My partners consider many factors when selecting a packaging partner. Here is a list of what they recommend:
Partnership: How will your vendor work with you?
Rohrer believes true partners make the perfect package. Our award-winning team uses state-of-the-art technologies to design and manufacture efficient and innovative retail packaging solutions for our partners. All to help build your brand and bottom line.
Capabilities: Can the packaging provider provide all of your packaging substrates?
Rohrer designs and manufactures blisters and blister cards, cartons, fabricated boxes, clamshells, club packaging and more. We provide the "complete package" for many partners. Just as important, our partners can rely on Rohrer to produce a better package consistently every time.
Convenience: Is it easy for you to connect with the people who can help you?
Rohrer provides an account manager and customer service contact for all of our partners. We will also set up conversations with our packaging designers and print experts. Rohrer's national footprint and Tijuana facility help us serve partners throughout North America.
Quality, Reliability, and Reputation: Is your [packaging] solution going to be functional, and will your vendor stand by their work?
Rohrer offers a library of case studies for your perusal. We also produce our own tooling and guarantee our heat-seal capabilities.
Consultative: Does your vendor understand your project goals, and can they provide innovative solutions to achieve them?
Rohrer engages with many internal teams to ensure your packaging success, including design, pre-press, color management, and heat-sealing.
Capacity: Whether your project is large and small, can your vendor take on the job and fulfill their promise? With a national footprint and multiple Centers of Excellence, Rohrer has vast manufacturing capacity. We work with partners of all sizes to move their packaging jobs into quick and efficient ezCombo

®

programs. We also integrate our partners' needs with our open capacity to ensure we complete jobs of any size on time.
Budget and Cost: Can you count on the vendor to provide you creative solutions while staying on budget? Will your partner help control costs by identifying risks, communicating early, and streamlining your supply chain?
Rohrer's ezCombo

®

program provides the fastest and most cost-effective solutions in the market. Rohrer has been in the packaging industry for nearly fifty years. Our experience helps us anticipate problems and trends, and develop solutions quickly.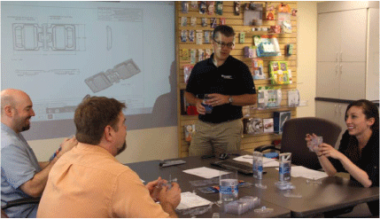 How does this list resonate with you? The Rohrer team wants to
Our partners answered the question, "Why do you choose Rohrer over the competition?" Their answers span many of the key vendor selection criteria. This is what they say: know your priorities right from the start. We will develop a packaging solution to help you achieve your goals.
"Sales rep knowledge and commitment"
"Convenience and proximity"
"You go out of the way to help me"
"I know another company who uses [Rohrer] for all of their packaging"
"[Rohrer] gives us great feedback and ideas"
Connect with us to assess your current packaging projects, and find out how Rohrer can improve your goal performance and ROI.