WADSWORTH, Ohio, Jun. 13, 2023 — Rohrer Corporation this week announced the addition of two key executives to its leadership team.
"Aligning our business around key value streams is a meaningful step for our organization as we sharpen our focus on growth," said Tim Swanson, CEO of Rohrer Corporation.  "Today's announcement represents the next step in our journey to build the premier visual packaging platform in our industry."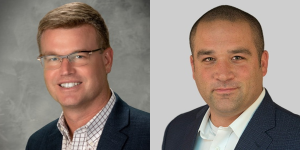 Ed Steele has been named President, Print Solutions.  Ed is a seasoned leader who has successfully grown businesses with transformational outcomes.  Ed comes to Rohrer from Bettcher Industries, a private equity-backed business where he most recently served as President.  Steele said, "I am excited to partner with the Rohrer and Wellspring Capital Management teams.  Rohrer has a 50-year history of providing their customers with innovative packaging solutions and is positioned well for platform growth.  I am impressed by Rohrer's commitment to continuous improvement, focus on value creation and best-in-class customer service levels.  I look forward to collaborating with the team."
Danny Teixeira has been named Vice President & General Manager, Thermoforming Solutions.  Danny brings an impressive background in operating system-led P&L management and operations leadership.  Danny comes to Rohrer from IDEX where he most recently served as Vice President of Operations for the North American Fire and Safety business.  Teixeira said, "This is an exciting opportunity to make an impact in an industry-leading organization with impressive capabilities, people, and scale.  The vision for growth, coupled with an energized leadership team and a supportive investment partner provides the ideal foundation to build a successful packaging platform.  I am excited to help see that vision through."
"Both Ed and Danny bring a track record of delivering operational and commercial excellence over the course of their careers with publicly traded and private equity-backed businesses.  The Print Solutions and Thermoforming Solutions foundation we are establishing will enable both organic and acquisitive growth that will build upon Rohrer's heritage of providing solutions through product innovation and service that our customers can win with," said Tim Swanson, CEO.
About Rohrer Corporation
Rohrer believes true partners make the perfect package. Our award-winning team uses state-of-the-art manufacturing technologies to provide innovative retail packaging solutions for our partners. Our partners enjoy industry-leading speed, quality, and value through our ezCombo® program, and beautiful design and inventive solutions in our custom packaging programs. Rohrer's packaging solutions help build brands and bottom lines. For additional information, please visit Rohrer.com.
About Wellspring Capital Management
Wellspring Capital Management is a leading private equity firm headquartered in New York. Since its founding in 1995, Wellspring has raised over $4.5 billion of initial capital commitments through six private equity funds. Over the past 25 years, Wellspring has invested in over 45 platform investments across various segments of the U.S. and global economies. Wellspring's objective is to bring partnership, experience, and value creation to each investment. By teaming up with strong management, Wellspring seeks to unlock underlying value and pursue new growth opportunities through strategic initiatives, operating improvements, and add-on acquisitions. The firm functions as a strategic partner, providing management teams with top-line support, M&A experience, financial expertise, and access to resources. For additional information, please visit www.wellspringcapital.com.