Absolutely, because it means the company is putting quality and customer service first.
"A satisfied customer is the best business strategy of all."
 – Michael LeBoeuf, a business author and former management professor

And, at Rohrer, customers are at the heart of what we do as packaging partners. We utilize ISO 9001 practices to achieve customer satisfaction, quality, and continuous improvement at every facility, every day. 
What is ISO 9001?
It's All About Quality
Ever heard of ISO 9001? Basically, ISO 9001 is a quality management system established by the International Organization for Standardization (ISO) back in 1946. ISO standards address a variety of business functions, as you'll see in a moment. 
ISO Standard 9001 focuses on Quality Control and helps companies develop standardized processes for providing customers with quality products and services. 2015 is the year that standard was last updated. Most of Rohrer's facilities are ISO 9001: 2015 certified.  
Why is ISO 9001 Certification Important?
Customer Satisfaction is Key 
According to the ISO, there are over 270,000 companies in the U.S. that are currently ISO 9001 certified, and for good reason: customer satisfaction is a key component. It's important for businesses because ISO 9001 certification provides a set of standards to help ensure the highest levels of quality and customer service. 
To achieve ISO 9001 certification, companies like Rohrer must implement a quality management system that focuses on seven areas of the business: 
1.  Customer Focus/Satisfaction: ISO 9001 helps us better understand the needs of our current customers and anticipate the needs of potential customers. For instance, Rohrer recently conducted a Customer Relationship/Satisfaction Survey to get feedback from customers on the ordering process, the quality of our packaging, and areas for improvement. If you participated in the Survey, thanks for the help! Now that we have a better idea of what our customers prefer in a packaging partner, we can work to continually improve on our products and services. 
2.  Leadership: A company's culture is shaped by its leadership. At Rohrer, it's no different. From President/CEO Steve Wirrig to Corporate Quality Manager Tim Ryan, our leadership team embraces and lives by the ISO 9001 standards. They serve as a unifying team dedicated to quality for the company, its employees, and its customers.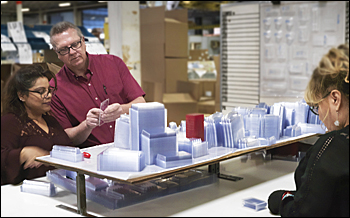 3.  Employee Engagement: ISO 9001 standards help to empower and involve every Rohrer employee. The quality management system provides guidelines for work processes, helps employees be safer and more efficient, and provides opportunities for employees to share their knowledge, learn new skills and take pride in their work.
4.  Systematic Process Approach: Every manufacturing process at Rohrer is analyzed with ISO 9001 in mind. We measure and manage each step in the packaging process to make it more efficient and provide our customers with quality packaging in less time.  
At Rohrer's Bensenville thermoforming facility for example, employees utilize a Process Interaction Map. It outlines the steps to be followed for each packaging run, as well as the operational materials, labor, equipment, and time necessary to run the process accurately, safely and efficiently.  
5.  Continuous Improvement: Ever heard the term "Kaizen?" It translates from Japanese as a "change" (kai-) for "good" (-zen). There's always room for improvement, right? 
Our Director of Operational Excellence Bryan Hoak has facilitated Kaizen events at various Rohrer facilities. A Kaizen event is all about implementing small, executable changes to improve existing products, services or processes within the company. 
During a recent Technology Transfer Kaizen event, a team of Rohrer experts from the procurement, customer service, estimating, art/prepress, tool and die fabrication, operations, printing, and quality control departments developed a more efficient order intake process for our customers. The result? This Rohrer Kaizen team was able to reduce the number of steps in the ordering to production process from 62 to 45. And they are developing key performance indicators (KPIs) to ensure package quality and customer satisfaction, including WebCenter enhancements and paperless production checks. That means your package will be perfect every time. Talk about Kaizen!
6.  Evidence-Based Decision Making: With ISO 9001, we're continually monitoring data on packaging materials, equipment, and the estimating, ordering, printing, thermoforming and heat-sealing processes we use every day. And we're always gathering feedback from customers so we can continue to improve on those processes and exceed your expectations.
7.  Relationship Management: As an ISO 9001-certified company, Rohrer can locate specific suppliers who are also ISO 9001-certified. Together, we can work to optimize resources, locate sustainable packaging solutions, and create value for our customers. 
Contact Us Today
At Rohrer, we believe that true partners make the perfect package. Let our ISO 9001-certified team provide the quality packaging products and services your brand deserves. Contact us today!