Patti McElligott, Senior Emerging Business Account Manager was handed a major project recently – develop and produce new packaging for a promotional product. That's big. And a lot was riding on this new design; it was to be the showstopper for sales and marketing efforts. Oh…and one last detail, Patti works for Rohrer.
It had to be better than perfect – it had to exceed expectations…just like Rohrer strives to do with each and every customer. And Patti was no different. The 'promo piece' as it was named would showcase Rohrer's unique production capabilities. Patti chose an attractive 'pad and pen' set, encased in a folding carton that could be used as a giveaway at trade shows and sales prospecting.  
Just like any other customer, Patti had to work within budget, branding, timeline and approval parameters. What's more, she needed to collaborate and coordinate with different in-house designers, engineers and facilities to make the promo piece a success. Needless to say, Patti was faced with a major challenge: Create the 'pad and pen' promo piece to be a stellar example of how Rohrer could produce a premium-looking package…without premium production costs. 
All eyes were on Patti and her team to make it work.
The showstopper features
The showcase 'pad and pen' set was designed as plastic book with a single pull-out tray holding pens. The features included:
Exterior plastic folding carton (reuse – for storage of pens)

Interior plastic tray to hold pens (reuse ability key factor) 

Belly band 

(branding)

Rohrer's branding colors (exact match and vibrancy important)

Metallic ink for premium look



First things first…RPET or PVC?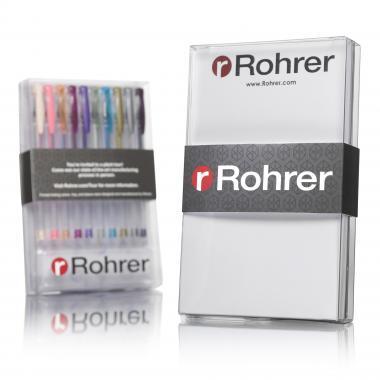 But which plastic to use for the folding carton? The plastic 'must haves' had to have crystal-clear clarity for visual appeal, flexibility for open/close reuse and the ability to create crisp folded edges. RPET and PVC were both considered, but PVC proved to be best choice. Not only did it meet all the requirements, it proved to be the most cost-effective for a low quantity run. Patti reminded herself that PVC is the recommended plastic for any market-entry customer with initial low volume needs. And with Rohrer as an industry-leader in PVC packaging, it also made strategic sense to demonstrate its expertise with this plastic as well beyond the 'pad and pen' set. In fact, several markets benefit from Rohrer's extensive experience in folding cartons such as cosmetics, office supplies and various samplers such as teas and spices.
So, Patti was learning to play both the customer and the marketer at the same time!
Working with the design and engineering teams, 15mil PVC was chosen for its exceptional reuse flexibility and strength to stand tall on the display shelf. Two closures were configured; the dagger lock on the bottom flaps as a non-opening ligature and the dash lock in the middle which could be opened and closed without tearing the plastic. 
The next production question had to do with applying text and graphics to the PVC. Traditional silk screening proved to be an ideal, budget-friendly choice with the extra benefit of in-house control. Additional reasons why the pen pad was the perfect candidate for printing on silk screen were the utilization of opaque ink, 2-3 spot colors and the short to medium run volume runs (<25M). The result was an opaque appearance while staying true to color vibrancy. And when it comes to branding, Rohrer wanted to stay true to its logo colors.
The belly band brings the WOW factor
A marketing belly band is a 'buckle' of paper or other material that wraps around a product or publication. It's an eye-catching way to share marketing and branding information to consumers.
Patti chose the belly band for an additional reason; to highlight Rohrer's mastery of metallic inks to achieve a premium look. After all, the belly band was to bring the WOW factor – and nothing says WOW better than sparkle on a store shelf! But first, she needed to choose the right material. Virgin paper board or 14 pt. SBS (solid bleached phosphate to be exact) was used due to its super white appearance and strength. But now came another key decision; which metallic ink – standard or premium?  
Standard vs. premium metallic inks?
This was where Patti reached out to her Rohrer colleagues for their expertise. She learned that standard metallic inks, although a cheaper choice, are prone to color inconsistencies. Premium metallic inks stay true to their color and sheen for a long-term, high-quality appearance when printed on super white SBS. So, Patti ultimately chose the premium ink Pantone 10399C in keeping with her overall objective. But when she learned that the belly band could be run on the cost-savings ezComboSM program without compromising time or quality – all she could say was "WOW!" And that was before she learned how the tray could be an ezComboSM candidate as well.
Pull-out tray – the retrofit way
Because the tray was the final piece of the design puzzle, it was retrofitted to the approved folding carton prototype. This is typical in the design process when one piece interacts with another. Overall, the tray was to be a single unit, eliminating the extra cost of multiple components and preparing it for the cost-savings ezComboSM program. In terms of functionality, the tray needed to be easily opened and closed for convenient access and storage of the pens.
But how do you keep the pens from rattling around inside the cavity? This resulted in a few design tweaks. The solution? Cut-off one end of the carton where pen clips could be secured, but this left a one-inch cavity below the pens. Another solution – extrude up to fill the extra space. And a bonus feature was discovered! More real estate for the Rohrer logo.   
ezComboSM – more for le$
Given its small production quantity, it was highly recommended that Patti leverage Rohrer's ezComboSM program only for the belly band and tray.  (The belly band was run at Wadsworth because it was paperboard, and the tray was produced at Bensenville because it was plastic.) ezComboSM is Rohrer's unique design and manufacturing process that allows the production of multiple parts within the same production. This shared tooling arrangement increases speed and reduces start-up costs and set-up times for all customers – including in-house clients like Patti. And the bottom-line news? She saved approximately 25% with ezComboSM vs. a custom run. 
Results to date – bringing out the best of the best!
Patti McElligott had the rare opportunity to be a customer within her own company – Rohrer. Overall, Patti was impressed on how Rohrer could create a uniform design strategy across multiple design teams and production facilities. Starting with an initial concept through the final production stage, Patti saw first-hand how Rohrer guided and communicated the customer through the process and seamlessly coordinated each step…on time and on budget. And although she could cite every feature and benefit of Rohrer's ezComboSM program, it wasn't until she experienced real savings 'up close and personal', did she truly appreciate its high-quality, low cost value – unique in the industry. The final product was a showstopper package demonstrating some of Rohrer's top-notch production strengths across multiple teams and locations. And above all, first class customer service!.