Millions of workers have shifted to a home office, but manufacturing employees cannot perform their job outside of the factories. Rohrer remains open across their facilities, providing packaging for many household brands and essential products, including medication and medical supplies, nursing products, face shields, and cleaning supplies. These brands rely on Rohrer for paper and plastic packaging to allow their continued production.
In 2019, Rohrer rolled out a new corporate mission, which begins, "Rohrer believes true partners make the perfect package." Rohrer sees partnership as the foundation for all of our business relationships from employees to customers, and vendors. This mission paves the way for empathetic leadership necessary during the COVID-19 pandemic.
Rohrer's COVID-19 Response Team started implementing risk mitigation strategies earlier this year, including travel restrictions, sanitation policies, and encouraging virtual meetings. Rohrer's first bold act was requiring 20% of employees to work from home.
Still, a good portion of Rohrer's workforce continues to come in to manufacturing facilities throughout the United States and Mexico. As the pandemic continued to spread, employees were understandably anxious and stressed. Rohrer's leadership team shifted their entire focus to keeping employees safe while remaining open. They ratcheted up safety protocols through strict social distancing policies, extended sick time policies, and temperature screenings. They increased communication and education through newsletters, plant message boards, and an employee portal. Rohrer sourced and provided reusable masks for all on-site employees well before states like Illinois required employers to do so. Masks are now required at all Rohrer facilities.
A wellness program is not complete without a focus on mental health. Steve Wirrig, CEO, and his leadership team designed a strategy to promote morale and positivity for all employee partners. "Although our teams were separated anywhere from six feet to many miles, we set a goal to bring people together in a supportive and uplifting way." Wirrig worked with the communications team, starting "Good News" messaging every Monday for on-site and work from home employees.
Rohrer employees are excited – the Good News has been big! In the first few weeks, on-site employees received premium wage increases; Rohrer added a paid holiday to the calendar for everyone; and the biggest incentive yet was Rohrer's employee raffle. Rohrer gave away more than $50,000 in prizes, including gaming systems, and restaurant, gas, and grocery store gift cards. U.S. employee, Nancy Mandiangu, took home the grand prize: A 2018 Ford Fusion.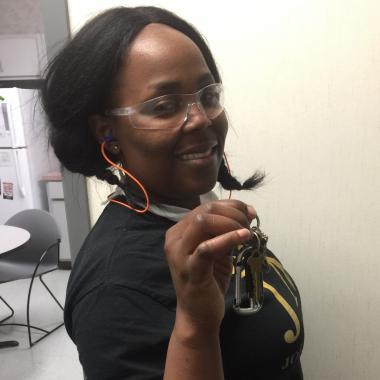 Now in the fourth week of the program, Rohrer is turning outwards to support our local communities. The individual plant leaders helped identify several charities near every facility. Each charity helps people affected by COVID-19. Rohrer employees voted for their favorite – work from home employees voted online, and plant personnel gave a verbal vote at their daily temperature screening.
The votes are in! Rohrer will contribute $5,000 to each of the following charities:
Arizona Food Bank Network
Casa de los Pobres in Tijuana
Feeding Medina County in Medina, OH
FISH of McHenry Food Pantry in McHenry, IL
North Gwinnett Co-op in Buford, GA
Onward Neighborhood House in Chicago, IL
West Suburban Community Pantry in DuPage County, IL
Rohrer's total contribution is $35,000. Rohrer believes this serves employee partners by providing support to their friends, families, and neighbors in need.
Although the "Good News Mondays" program may change, the company leadership plans to continue it for at least the next few months. Wirrig concludes, "It's unlikely that we'll all be working together again any time soon, and the future of work will look a lot different. As long as we're making changes, we can try to make things better for everyone."