With Thanksgiving around the corner, it's time to connect with family and friends. In keeping with the tradition, Rohrer would like to introduce you to our new addition, Coburn Carton Solutions, and welcome them to the Rohrer packaging family.
Why is Coburn Carton Solutions A Great Addition to Rohrer?
Location, location, location. Coburn is located in Hayesville, OH, about 40 minutes southwest of Rohrer's Wadsworth headquarters, making it a great addition close to home. From a customer standpoint, this means Rohrer now has expanded facilities and manufacturing capabilities in Ohio and the Midwest to optimize your packaging solutions across facilities. Points for proximity!
Packaging Capabilities. Coburn is one of the few packaging companies in the Midwest specializing in large-format printing and the design, development, and manufacturing of folded cartons.
In 1966, Coburn began as a small packaging business with a handful of employees. Today, with over 100 employees, the company is considered an award-winning manufacturer of folding cartons for brands in the following industries:
General Foods
Frozen Foods
Household Goods
Candy/Confectionaries
Pharmaceuticals
Sporting Goods
Automotive Parts
Mechanical Packaging
Toys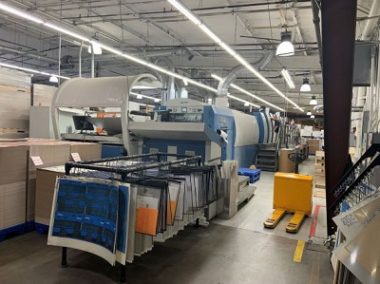 Award-Winning Customer Service. Quite frankly, Coburn shares the Rohrer mindset when it comes to customer service. At Rohrer, we believe true partners make the perfect package, and Coburn believes in superior customer service as well.
Earlier this year, Coburn was featured in the magazine Packaging Impressions and received a "Package of the Week" award for developing a unique folding carton design for one of its frozen food customers. Kudos to Coburn for coming up with a creative cocktail cube packaging design!
"We're thrilled to integrate Coburn's team of innovative employees and its expertise in the packaging industry to the Rohrer family," said Steve Wirrig, CEO of Rohrer. "Its large-format printing and folding carton capabilities are a great addition to Rohrer's packaging solutions for its customers."
Looking for the Latest in Innovative and Sustainable Packaging Solutions?
The Combination of Coburn and Rohrer Can't Be Beat. Thank you for helping us welcome Coburn Carton Solutions to the Rohrer family. If you're an existing customer, you know that our award-winning team uses state-of-the-art manufacturing technologies to provide innovative retail packaging solutions for you. With the addition of Coburn to the Rohrer family, we can leverage its large-format print and folded carton capabilities for you going forward. Here's to new family and friends…Happy Thanksgiving!