Did you know that there are more than 43 quintillion ways to scramble and solve a Rubik's cube, according to computer scientist Tom Rokicki? Choosing the best paperboard for your blister packaging may seem as daunting at times.
There are a lot of factors to consider (i.e., product shape and branding, design, tooling, prototyping, paperboard, printing, plastic thermoforming, and sealing) and many ways to "solve" the packaging puzzle (i.e., combo blisters, face-seal blisters, footed blisters, full-face blisters, etc.). Thankfully, Rohrer provides a wide variety of paperboard options for your blister cards. We can create the perfect package for you!
What Types of Paperboard Materials are Available for Blisters?
A blister package is comprised of two components: 1) A plastic front; and 2) The paperboard back with your printed branding and retail messaging. Let's focus on the paperboard back of the package for a moment. There are several paperboard material types available, including clay-coated board (C1S/C2S) solid bleached sulfate (SBS), recycled paperboard, chipboard, laminated board, and tear-resistant board.
The two most popular paperboard choices for blister packages are: 1) C1S/C2S SBS; and 2) recycled paperboard, primarily due to their packaging capabilities, availability in the market, and affordability.
What is Clay-Coated (C1S/C2S) SBS and How Can It Help My Package "POP"?
C1S and C2S are types of clay-coated SBS. C1S is clay-coated on one side, so it typically has a smooth, shiny surface on the front and a rough, matte surface on the back. C2S is clay-coated on two sides, so it usually has a smooth, shiny surface on the front and the back.
Many of Rohrer's packaging partners choose clay-coated (C1S/C2S) SBS for the card backing of their blister packages. Why? Because clay-coated SBS offers several advantages from a printing, sealing, packaging, point-of purchase (POP), ezComboSM, and cost perspective.
What is Recycled Paperboard and How Can It Help Me Create a More Sustainable Package?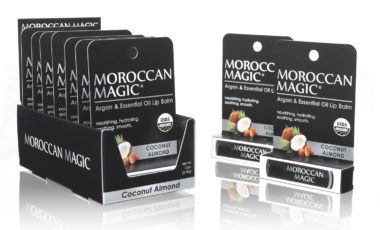 Similar to C1S, recycled paperboard usually has a higher percentage of recycled paper content, making it a more sustainable packaging option. And recently, it has been more readily available in the market, which means your product could be fast-tracked from production to retail stores!
It's important to balance your goals for sustainability and lead time with package design, printing, sealing, and budget when choosing the ideal recycled paperboard for your package. Let's review the advantages of recycled paperboard for packaging. 
Sustainable: Typically, a higher percentage of recycled paper content, making it a more sustainable packaging option
Material Availability & Lead Time: At times, it can be more readily available in the market. This means faster production time.
Printing Capabilities: Solid print capabilities on the front; printing results on the back vary.
Heat-Sealing: Best for Front Side
Packaging Styles: Best for Face-Seal or Trapped Blisters (Two Cards Sealed Together)
ezComboSM

: 

Y

es. As part of the ezComboSM program, ecoCombo™ uses 50% PCR content in the thermoformed blisters and a minimum of 65% Post-Consumer Waste (PCW) content in the blister boards.
What's the Best Paperboard for My Blister Package?
Still trying to decide if C1S/C2S SBS or recycled paperboard is the best option for your blister package? This analogy may help – think of painting a new room in your house. The contractor just installed new drywall. The rough, freshly mounted drywall is similar to the uncoated side of a C1S board or the back side of recycled paperboard. If you paint the untouched drywall, it will soak up the color, but the wall will have a rough, textured appearance.
If you decide to finish the drywall by applying some plaster, sanding out the rough edges, and adding a coat of primer, the finished drywall is like both sides of a C2S board, the clay-coated side of a C1S board, or the front side of recycled paperboard. The paint will glide on flawlessly and the color of your new room will look vibrant and elegant.  
C1S/C2S SBS and recycled paperboard all have their distinct advantages when creating the perfect blister package. If you let us know your goals, the experts at Rohrer can help you solve the paperboard and blister package puzzle!
At Rohrer, we believe that true partners make the perfect package. Let our award-winning team use state-of-the-art technologies to design and manufacture an innovative retail packaging solution for you! Contact us today.