Rohrer is bringing a new sustainable packaging solution to WestPack 2020. ecoCombo® uses post-consumer recycled (PCR) materials. Available for both blisters and blister cards, this new program expands the recycled content options within Rohrer's premier ezCombo® capabilities.
Rohrer is committed to driving innovation in sustainable packaging. With ecoCombo® Rohrer is shaping the industry's combo packaging trends.
"Consumers are passionate about sustainability. Our brand partners want to use sustainable packaging, too. Unfortunately, green options often cost more than virgin materials. Historically, that sent our partners' sustainability initiatives out the window," says Sarah Carson, Vice President of Marketing. "That's why ecoCombo® is so exciting. The pricing is in-line with our existing ezCombo® prices. And that allows brands to achieve sustainability goals without sacrificing their budget or timelines. It's great for our partners – and it's great for the environment!"
Rohrer offered PCR content previously, but only for custom solutions, not combo. The ezCombo® program is notoriously attractive for its low point of entry both in quantities and start-up costs. ezCombo® combines orders with common quantities, spreading the start-up costs and increasing production speed for orders of all sizes. Rohrer's combo program starts at just 5,000 pieces and includes thermoformed packaging, blister cards, and cartons.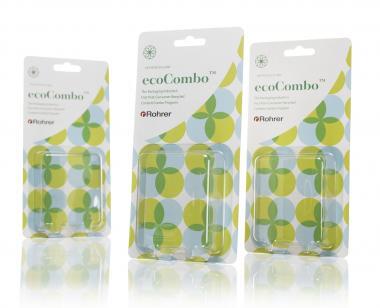 The new ecoCombo® packages are a green solution for brands of all sizes. ecoCombo® uses 50% PCR content in the thermoformed blisters and a minimum of 65% Post-Consumer Waste (PCW) content in the blister boards.
Rohrer is engaged in thorough testing on the new PCR combo program with a variety of tests for the blisters, blister cards, and the corresponding heat-seal. Rohrer will also engage with a third party to validate and expand on the internal testing. Brands will continue to receive high quality retail packaging to build their bottom line.
Both post-consumer and post-industrial recycled content are valuable to achieving better sustainability in packaging. However, using PCR content diverts these materials from landfills. By choosing packaging with high PCR content, brands are increasing the demand for old paper and plastic materials. This supports community recycling programs, making them more effective.
Rohrer's production of ecoCombo® quotes and packaging begins soon. Discuss the details with Rohrer at booth #5566 at WestPack at the Anaheim Convention Center, February 11-13, 2020. For more information on ecoCombo®, visit Introducing ecoCombo®.