A Center of Excellence (CoE) is a model that represents industry-leading standards of knowledge, technologies and workflow efficiencies. It can be found in any sector – healthcare, education, manufacturing, etc. It is a real bricks-and-mortar place, not just some lofty-sounding ideal. If you have ever walked into a Center of Excellence, you would see the best-of-the-best not only for that organization, but also within that industry. When the bar is set that high, it's a real game-changer. Because everything else that follows will be measured by its corresponding CoE. It's a tough act to follow. But for Rohrer with their new CoE now being established at the Wadsworth location, it's just the beginning of a whole new era of exemplary quality, speed-to-market, pricing, and sustainability – enterprise-wide.
New Mission…New Vision…New Era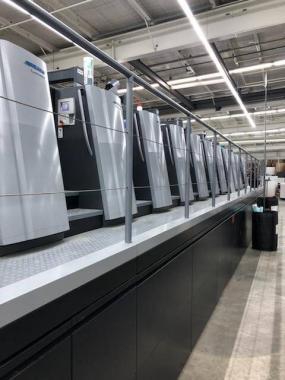 The Center of Excellence initiative is only part of a bold strategy for the future, supported by a new Rohrer mission and vision.
Mission: Rohrer believes TRUE PARTNERS make the perfect package. Our award-winning team uses state-of-the-art technologies to design and manufacture efficient and innovative retail packaging solutions.
Our partners enjoy industry-leading speed, quality and value through our ezCombo® program, and beautiful design and inventive solutions through our custom packaging programs. Rohrer's packaging solutions help build brands and bottom lines.
Vision: Rohrer builds partnerships with CUSTOMERS by providing efficient and innovative packaging solutions, with EMPLOYEES by offering a culture that fosters teamwork and empowerment, and with INVESTORS by pursuing continuous growth.
The new mission and vision statements are only as good as how they are put into action, right? That's where Rohrer's go-to-market strategy comes into the picture. And it all starts at the Wadsworth, OH facility.
Go-to-Market Strategy from the Ground Up
Everything that will be built or implemented into the Wadsworth print platform expansion will support Rohrer's go-to-market strategy. It was developed to not only service customers' current needs but more importantly – anticipate their future needs. The multi-million dollar investment will ultimately benefit its customers in terms of higher quality, pricing, and speed-to-market.
On January 27, Wadsworth broke ground to add an additional 20% to the building, expanding its manufacturing footprint to 200,000 square feet. The projected date to complete the expansion is August 2020.
Now all of that is big news, but the bigger news is that the entire Wadsworth facility will be redesigned to meet its own rigorous CoE standards starting with the internal layout. The facility is already ISO certified, but the floor plan will adhere to Lean Manufacturing methodologies to optimize workflow via the whole manufacturing value stream – from raw materials in the door through finished goods out the door.
Wadsworth Expansion 'At-a-glance'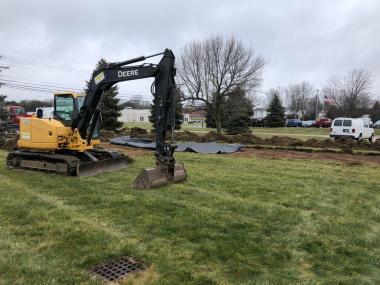 State-of-the-art equipment and technologies: The manufacturing 'muscle' will be powered by the very latest and greatest eco-friendly equipment and technologies that have been developed over the last two years. This translates into increased productivity of 40-50% to service our customers that much faster!
Sustainability: With the installation of the "greener" equipment, the facility will use less energy and produce less waste. Wadsworth will also be adding a new scrap removal system to process paper waste.
ecoCombo®: Wadsworth will be producing the same overall packaging solutions with the addition of the industry's first post-consumer recycled content program., ecoCombo®. Priced similar to Rohrer's ezCombo® shared tooling solution, ecoCombo® also supports Rohrer's CoE sustainability initiative.
New jobs – empowered training: Rohrer's addition of the latest technology is matched only by its investment in job creation and employee training. The expansion will add approximately 40 new jobs in manufacturing and include training for new and current employees as Wadsworth ramps up to full capacity.
Excellence as a Market Differentiator
The Wadsworth Center of Excellence brings together world-class best practices, cutting-edge technology, and Rohrer's go-to-market strategy – all under one roof. This expansion not only optimizes their manufacturing footprint but also will decidedly give them a competitive edge in quality, pricing, and fast-tracking products to shelves.
Wadsworth is just the Beginning
Rohrer's first Center of Excellence at Wadsworth is actually a springboard…a model to be duplicated for future expansion. So, stay tuned as Rohrer breaks even more 'go-to-market' ground guided by its new mission and vision. But seeing is believing, right? Rohrer will be planning plant tours to view progress in the making, contact your Sales Rep to schedule a tour or via the web at Contact Us