What's your favorite ice cream? Surely you visited your local Dairy-ette ice cream shop over the summer. Not just three choices anymore: Vanilla, Chocolate, or Strawberry. These days, it seems there are so many flavors to choose from – everything from Rocky Road to Pralines and Cream.
Just like your ice cream, you can get more choices for your packaging with ezCombo®!
Rohrer offers 16 different options for print, thermoforming, and folding cartons as part of our industry-leading ezCombo® packaging program.
Let's look at why the ezCombo® program is one of the largest and most comprehensive combo-run packaging applications with the most choices available for brands.
What is ezCombo®?
If you're not familiar with Rohrer's ezCombo® program, it's a unique manufacturing solution where several different printed or plastic (thermoformed) packaging pieces are created as a combo-run. Basically, ezCombo® streamlines the packaging process by combining the orders of several customers on one production run. This shared tooling arrangement increases speed, reduces start-up costs, and minimizes set-up times for all customers. And you only pay for the space you need.
What Types of Packages are Eligible for ezCombo®?
ezCombo® can be used on your printed or plastic packaging. As the industry's largest combo program, ezCombo® is offered for a variety of packaging styles, including:
Sustainable Packaging Options: All-Paper Blister and ecoCombo®
What ezCombo®
Choices are Available?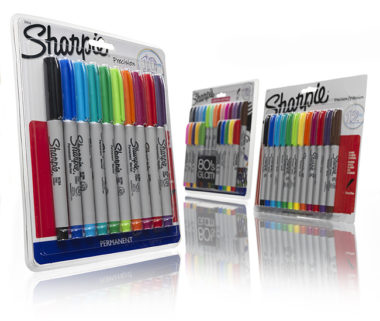 When it comes to packaging customization, Rohrer offers the industry's widest variety of options, including multiple card and blister gauges, choice of coating (AquaSeal® or PakSeal®), in-line labeling, and specialty printing processes (Process +™ or Cold Foil).
Check out the 16 different choices available in our ezCombo® packaging program.
ezCombo® Programs for Cards and Inserts:
4/1 Face Seal Blister Card Combo
4/4 Face Seal Blister Card Combo
Xpress Card Combo
Cold Foil Blister Card Combo
Process+™ Blister Card Combo
4/1 Back Seal Blister Card Combo
4/4 Back Seal Blister Card Combo
Tear Resistant Card Combo
ecoCombo® Post-Consumer Waste (65%) Blister Card
All-Paper Blister

ezCombo® Programs for Blister Packaging:
PVC Blister Combo
RPET Blister Combo
ecoCombo® Post-Consumer Recycled PET (50% PCR) Blister

ezCombo® Programs for Folding Cartons:
Standard Carton Combo
Cold Foil Carton Combo
Process+™ Carton Combo
For additional details and specifications on Rohrer's ezCombo® programs, click here to review the product chart.
What About Quantities?
Choices don't stop with packaging styles or specialty options. We also offer the lowest, most convenient combo quantities in the market with our ezCombo® program:
5,000
10,000
20,000
25,000
50,000
100,000
With that type of flexibility, you can run many different items at the same time in smaller quantities, or the larger quantities of the same package.
Be Choosy at Rohrer
And the cherry on top of your ice cream? With all these available options, you can be choosy with your packaging at Rohrer and get the ezCombo® solution that best suits your brand, your product, your time to market, and your budget.
At Rohrer, we believe that true partners make the perfect package. Ready to sign up for Rohrer's ezCombo® program? Contact us today!