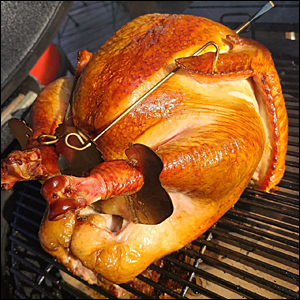 Do you truss your turkey or chicken before cooking? With Thanksgiving fast-approaching, here's a quick cooking tip: most chefs recommend trussing your bird before putting it in the oven. Trussing closes the turkey cavity and prevents the breast from drying out before the thighs and legs are properly cooked. That way, you end up with a juicy, well-cooked turkey on the big day. Yum!
Trussing a turkey can be a little intimidating, especially if you're a novice cook like me. It reminds me of playing that "Cats in the Cradle" string game as kids. To truss effectively, you need some cooking twine and a lot of fingers on the turkey to get the legs and wings tied up properly.
Brian Halasinski and Kirk Hyust from Canton, Ohio, experienced a similar frustration when trussing their turkeys with cooking twine. As inventors, they created an easy solution that anyone could use to prep their birds – and the Turbo Trusser was born.
Turbo Trusser is a W-shaped stainless steel cooking device that eliminates the need for cooking twine. The drumsticks of your turkey are cradled within the W and hooks extend from that piece to the wings, effectively closing the cavity of the bird – no additional twine, no needlepoint degree, and no chef status necessary. And you can use the stainless steel Turbo Trusser in the oven, a smoker, rotisserie, roaster, grill or fryer. Now we're Talking Turkey!
Turbo Trusser + Rohrer: A Partnership is Born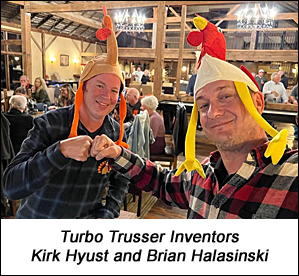 In 2021, the inventors of Turbo Trusser, Brian Halasinski and Kirk Hyust, contacted Rohrer about creating a package for their new cooking device – one that would help Turbo Trusser really take off!
"It was important that we found a local packaging company with significant capabilities," said Brian Halasinski, Turbo Trusser co-inventor. "Since Rohrer is headquartered in Wadsworth, Ohio, and their knowledgeable packaging experts were willing to help us, Rohrer was the perfect choice."
The Rohrer team developed an innovative ezCombo® 4/4 face seal blister package for Turbo Trusser. Halasinski said, "The quality of the ezCombo cards and blisters is phenomenal and the lead times at Rohrer have been fast. Our most recent order arrived a month earlier than the estimated delivery date."
Once the new packaging was created, Turbo Trusser began selling their turkey and chicken trussers online at TurboTrusser.com and Amazon for $14.99 each. The Turbo Trusser product was officially launched.
Turbo Trusser Cooks Up a Deal on ABC's Shark Tank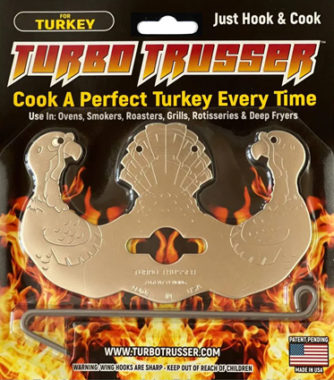 In the Fall of 2022, Turbo Trusser was featured as a new startup business on an episode of ABC's Shark Tank, with investor "sharks" Mark Cuban, Barbara Corcoran, Kevin O'Leary, Robert Herjavec and Lori Greiner. After explaining their startup business and the cooking device, the founders of Turbo Trusser, Brian Halasinski and Kirk Hyust, requested a $100,000 investment for 10% equity.
Everyone at Rohrer who worked on the Turbo Trusser packaging watched Shark Tank that Friday evening on the edge of their seats. It was exciting to cheer for the Turbo Trusser team and see the product in action (in Rohrer packaging that we helped develop), up there on the TV stage.
Chef Wonderful Takes Turbo Trusser Under His Wing
How did Turbo Trusser do on Shark Tank? As Chef Wonderful on YouTube, Kevin O'Leary was immediately interested in the cooking device. He made Turbo Trusser an offer of $100,000 for 33% equity and a $1 royalty in perpetuity per unit sold. After some negotiating, Halasinski and Hyust accepted O'Leary's offer.
Turbo Trusser has had a tremendous increase in sales on TurboTrusser.com and Amazon since their Shark Tank debut. The cooking device is now a #1 Best Seller on Amazon and the Turbo Trusser team has been selling the Chef Wonderful bundle at a special price of $26.98 (which includes a turkey trusser and a chicken trusser) online. Amazing results!
Rohrer is so proud of Turbo Trusser and the packaging partnership we've created with inventors Brian Halasinski and Kirk Hyust. Thanks for allowing Rohrer to be a small part of your product launch, your package design, and your retail and TV success.
At Rohrer, we believe that true partners make the perfect package. Ready to sign up for Rohrer's ezCombo packaging? We can help you develop an innovative package design just like we assisted Turbo Trusser. Let's Talk Turkey. Contact us today!