We've all been there. Grocery shopping. Trying to find that one brand of crackers that your kids love as you're scanning an entire aisle of crackers in the store. There's one unique package that catches your eye – you're drawn to the colors, the design, the printing, and the way the brand presents itself on the packaging. Suddenly, that package is in your cart.
Well, you're not alone! According to IPSOS Global Research, 72% of Americans indicated that the design of a product's packaging impacts their decision to purchase. As you can tell from this statistic, printing is more than just ink on a package. It's a visual representation of your brand. Think of printing as the "call-to-action" that encourages consumers to reach for your product on the retail shelf.
How Can Printing Help Differentiate My Product Packaging at Retailers?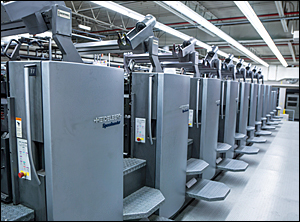 Looking for ways to kickstart that call-to-action and differentiate your packaging at retailers? Premium printing may be just what your product needs. Here are a few solutions:
ezCombo®: The industry's largest combo program for blisters, cards, and cartons. Rohrer offers the widest variety of buying choices including 16 different print combos, starting at just 5,000 quantity. Click here to see the ezCombo® print combos we have available.
Large Format Printing: Rohrer's large format printing capabilities are ideal for higher volume print runs. With large format printing presses, more branded cartons can be run per sheet, which expedites the production process, saves money, and creates less waste.
Color Management: Color is a crucial element of your brand's identity. We offer multi-color management standards to maintain color continuity in your packaging, including:



– Utilizing PMS Spot Colors, 4-Color Process, and 7-Color Process printing to ensure consistency and brilliance on your package.

– Converting art files to printing files and determine the optimum printing type.

– Measuring hue, chroma, saturation, density, and tack to give provide perfect graphic replication of your packaging design.
Process +™: This is our cutting-edge 7-color process that adds orange, green, and violet inks to the traditional CMYK inks.



The addition of these three inks gives Process +™ the ability to reproduce Pantone® colors more accurately. It also allows us to replicate over 80% of the Pantone® Plus Series Color Guide (versus only 65% with CMYK).

Process +™ surpasses 4-color printing results and it may also be a cost-effective alternative to spot color. Rohrer offers Process +™ within our ezCombo® and custom packaging programs, making it an affordable option for brands large and small. Getting accurate color results and saving money? Win-win!
What Types of Packaging Can I Print On?
At Rohrer, we have the capability to print on just about any packaging material, including:
Paperboard Substrates: We can print on a variety of paperboard substrates. Click here for more details.
Folding Cartons: We can print on paperboard or plastic folding cartons as well. Click here for more information.
Contact Us Today
At Rohrer, we believe that true partners make the perfect package. Let us provide your product with the printing pizzazz it deserves. Rohrer can help define and differentiate your brand through premium printing and techniques. Contact us today!