What makes for a great case study? For starters, it brings together the best of people, innovation, collaboration and technology. So, what makes a great case study? It tells a great story, but it also demonstrates inspiration and compassion for a country in crisis. What you are about to read – is exactly that.  
When a crisis hits home 
Spring 2020 and the pandemic hits hard and fast. Our nation's PPE (personal protection equipment) stock soon ran out putting our frontline healthcare workers at risk. Brad Griffin, VP of Product Development of Practicon, a dental supply company, remembers the day when their face shields sold out within hours – and so did other suppliers. But when the local hospital sent out an SOS for face shields, Brad jumped into action. He first cut face shields from 30 mil PVC and then had a local lab do the 3D printing of the head frames. The immediate crisis was satisfied. But it was a slow and costly process. And his primary market – dentists – now told Brad that they needed a special kind of protective shield to safely treat their patients.  
Brad 'builds a better mousetrap' 
Brad went into high gear to 'build a better mousetrap' for a face shield that was better, faster and cheaper to make. His design would be a first-of-its kind for dentists that would fit over loupes, (binocular like glasses) and head lamps. He started sketching some preliminary designs using input and inspiration from talking to dentists firsthand.   
This was nothing new for Brad. He had already designed many of Practicon's products with expertise learned from working with Rohrer engineers on other products. Brad's concept was a face shield with an integrated head frame folded entirely from 12 mil PET material. Brad knew that Rohrer's lightning fast prototyping service along with their precision scoring and die-cutting abilities could bring this product to life.  
Practicon and Rohrer collaborate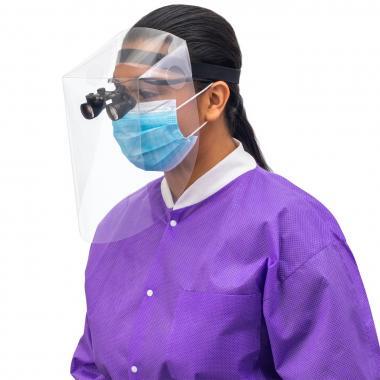 With sketch in hand and a posterboard prototype, Brad came to Rohrer to kick-off the successful collaboration. His list of design must-haves included: 
No 

headframe but a 

removable 

headband

. 

Other face shields have an attached foam head

 cushion 

that can't be disinfected.  

 

Source 

ant

i

-fog coa

ted plastic

.

 

Incorporate the 'curved score' technique that Brad learned from Rohrer a few years back. 

 

Brad calls 

this 

the 'secret sauce' that would give the face shield its unique bowed out effect when folded.

 

Use of s

ustainable material

.

 
Brad had done so much up-front work on his own, that Rohrer could focus on fine-tuning the technical details. For example, three-quarter inch Velcro was the best material for the headband because of washability, comfort and fit. Another detail, how much curvature allowed for the visor panel and should it be perforated or continuous? A continuous score was selected for its smoother, more predictable fold. 
Practicon's Clear-All™ Face Shield goes into production 
But they still faced one more hurdle – the face shield itself would be cut from 12 mil PET material with an anti-fog coating. This plastic was in high demand at the time. But for Rohrer and its vast network of suppliers, Rohrer soon sourced the material and production started in late June at the Addison facility. By late July, the first 10K order of Practicon's Clear-All™ Face Shield was shipped out.  
Initially, the Clear-All™ Face Shield was going to be shipped unfolded. But because the actual folding of the face shield might be too time-consuming for healthcare workers, it was decided to ship the shields ready to wear. This involved hiring a local Greenville resident to fold the face shields in advance.  
A great ending – but wait… 
We told you this was a great story. The Clear-All™ Face Shield started as an inspiration to safeguard our healthcare workers, and along the way it sparked innovation, collaboration and technology. And Rohrer was proud to be a part of it and…prouder still of Brad Griffin of Practicon. [Ed. Note: Brad is back sketching ideas for even more innovative PPE. Stay tuned.]