You have eight seconds. That's right. According to a recent Microsoft study, the average consumer's attention span is eight seconds.
Wow! That's not much time to tell your product story, include your branding message, and encourage shoppers to put your product in the cart.
Package Design Considerations
At Rohrer, we've been helping brands create the perfect package for almost 50 years. We'd like to share a few package design tips to help you make the most of your eight seconds:
1. Graphics and Imagery: It's important that the graphics, imagery, fonts, color and visual elements of your package are aligned with your brand identity. What do you want to communicate to consumers about your company and your product? What are the values of your company and the personality of your product? How does your product benefit consumers? Why should they choose your product over the myriad of other similar products in the store?
Think of the visual elements on your package as a "call-to-action" that encourages consumers to reach for your product on the retail shelf. Click here to learn more helpful tips on Digital File Recommendations at Rohrer.
2. Package Construction: Essentially, package construction is the form and function of your packaging. There are many factors to consider when it comes to the construction of your package. Would a blister, clamshell or folding carton be the best packaging shape for your product? Could it be an All-Paper Blister that holds two pens in place with a paper insert? Or does an ezCombo® thermoformed blister make more sense because the clear plastic provides visibility and protects the contents during transport and retail display?
How tightly does the product need to fit in the package? Do you need a custom package that fits your product "like a glove" or would one of Rohrer's stock tooling package designs (e.g., clamshells, blisters, boxes, rounds and folding cartons) work just fine? Does the package need to protect the product during transportation or provide security in the retail store?
3. Packaging Materials: What packaging materials make the most sense for your company and your product? Which materials are in stock?
At Rohrer, we have a variety of packaging materials available – everything from SBS (solid bleached sulfate) and CCNB (clay-coated news back) or recycled paperboard to PVC (polyvinyl chloride) and rPET (recycled polyethylene terephthalate) plastic. And if for some reason we can't get the substrate you're looking for, our team of procurement experts can help you locate a suitable alternative.
4. Sustainability: Statistics in Rohrer's 2021 Sustainable Packaging Study conducted with Hanover Research indicate that 83 percent of companies are interested in more sustainable packaging options. So, more brands are turning to packages made with recycled paperboard and plastic or other recyclable materials, like Rohrer's All-Paper Blister or ecoCombo® packaging.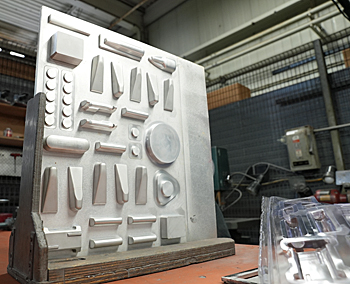 5. Cost: Ensure that the total packaging cost is consistent with your ROI goals for the product so you can remain within your design budget. Our ezCombo® program is an affordable packaging solution for many brands.
It's a combo-run manufacturing process where several different printed or plastic (thermoformed) packaging pieces are created at the same time, saving money and time. Rohrer's package design experts can help you achieve the innovative package you want while keeping costs in balance.
At Rohrer, we believe that true partners make the perfect package. Our award-winning team of design, print, and thermoforming experts can help you make the most of your eight seconds with consumers. Contact us today so we can help design an innovative, attention-grabbing package for your brand.