Business leaders in every industry are doing their best to react to the novel coronavirus pandemic. Rohrer's CEO, Steve Wirrig, compiled a COVID-19 response team in January 2020. To some people, it seemed premature. Stories about the novel coronavirus (COVID-19) were only just starting to circulate. In fact, this proactive approach helped Rohrer establish a plan to support our employees and our customers.
Wirrig tapped Kirk Martell, CTO, to lead the taskforce. They brought together members of the executive team, compliance, human resources, marketing communications, and operations. There weren't many guidebooks for a COVID-19 response at the time. The team started brainstorming new policies and protocols, and built an Emergency Response Plan from scratch.
When Pennsylvania launched their shelter-in-place orders, the group knew our geographies would not be far behind. Rohrer operates eight facilities in Ohio, Illinois, Georgia, Arizona, and Mexico.
By the time Governor DeWine of Ohio and Governor Pritzker of Illinois declared their shelter-in-place orders, Rohrer was ready.
"There is no question that Rohrer is an essential business."
Rohrer qualifies as an essential business. Every local or state-wide government order lists manufacturing companies that are part of the supply chain for other essential businesses and operations. Rohrer designs and manufactures packaging for many critical products including pharmaceuticals, nursing supplies, hygiene products, cleaning products, detergents, and other essential household goods. Our partners count on us to ensure they provide their critical products in the marketplace.
As Rohrer designed a plan to remain open, we prioritized employee health. A critical step in this process was to provide social-distancing solutions. By early-March, Rohrer instituted no-visitor and no-travel policies. For some positions, implementing work-from-home protocols and providing technology support was enough. Kitchen tables turned into offices, and meetings moved to webinars.
More importantly, Rohrer instituted a new Employee Paid Sick Leave policy that provides additional paid time off for COVID-19 related absences. The new policy encourages sick or at-risk employees to stay home. According to Dora Marquez, Director of Human Resources, "We rely on our team to keep each other healthy – as much as they take care of themselves, social distancing helps them take care of each other."
But how could we create space for social distancing for people working in the plants? And how can we protect employees while running an efficient packaging operation for the partners who need us?
"We relied on our manufacturing leaders to provide common sense solutions. They delivered!"
Rohrer's leadership team implemented some creative solutions.
Tony Bernichio, the Bensenville Plant Manager, adjusted the shift start times and end times. He created a 30-minute buffer between shifts to reduce crowding around time clocks.
Javier Solis, the Tijuana Plant Manager, built partitions for the packing team using sheets of the plastic we use for thermoforming.
Tim Ryan, the Compliance Director, researched homemade hand sanitizer recipes, and mixed cleaning sprays and hand sanitizer for the plants. We are also purchasing hand sanitizer from local distilleries to ensure our facilities have the supplies they need.
Throughout the facilities, doors are propped open to reduce touches on door handles and plates.
As the shelter-in-place orders expanded in other jurisdictions (like Arizona and the city of Atlanta), Rohrer was ready.
"It's a matter of when, not if."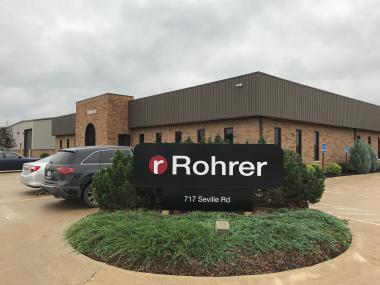 When Rohrer encountered the first employee to test positive for COVID-19, the response was quick. Martell agrees, "Our team followed the Emergency Action Plan. Everyone knew their role and responsibilities." Support came from the COVID-19 response team as well as the executive team.
Rohrer provided a guide for plant leaders and human resources personnel to isolate and interview the affected employee, allowing them to quickly identify any other high-risk individuals. Other plant leaders closed down all areas where the individual worked, and we brought in our specialty cleaning company to perform a deep-cleaning at the facility. 
Our Employees, Our Partners, Our Team
Everyone has been incredibly understanding of the extreme circumstances affecting all of our businesses. There is no shortage of news and resources to help all of us stay connected and efficient while working remotely or short-staffed. Working in step with Steve Fifer and Justin Antony, both VP's of operations, we share our success stories in a regularly scheduled newsletter. Department and team leaders meet every week to discuss new developments and solutions. We host a microsite for employees to access news, policies, and other useful links.
Rohrer continues to order raw materials, ensuring we are able to produce our customers' jobs. We tapped into our freight network to understand any changes to our shipping and delivery timelines. While there have been some delays, in general, freight and transportation companies are delivering within acceptable timeframes.
"We believe our proactive approach to this pandemic put is in a good position to plan and react," says Carmine Lombardi, SVP of Customer Success. "We are all working in a new normal, but our plans allowed us to be better prepared in a crisis." This is the tip of the iceberg. We are moving from a phase of immediate reaction in our preparedness, to one of Continuous Improvement. We will all be living with COVID-19 in our communities for a long time to come, and at Rohrer, we are prepared to do everything possible to keep our employees safe and employed as we continue to navigate the evolving pandemic.
Rohrer's commitment to our customers remains the same. Our goal is to offer customers the highest quality products and services available in the carded package industry. We continue to strive for zero product and service defects, and to put pressure on ourselves to achieve on-time-delivery. We believe that true partners make the perfect package. We are so grateful to our employees and customers for their continued partnership.