Brands come to our sales team all the time looking for the latest sustainable packaging solutions. Receiving pressure from consumers and retailers, leading brands stand apart by staying a step ahead in sustainability initiatives.
Yet, being innovative comes with a cost. The research and development involved in creating a brand new solution takes time and money that some companies cannot afford. That's why it's vital to collaborate with a supplier that has their finger on the pulse of the industry. Partnering with the right packaging supplier can help relieve you of the burden of starting from scratch.
Lately, a lot of the talk has been around the use of recycled materials. Namely, Post-Consumer Recycled (PCR) and Post-Consumer Waste (PCW) materials. So, how do PCR and PCW provide added benefits? Moreover, does using recycled materials even matter?
Why Recycling, and Why Using Recycled Materials, Matters
Packaging has had a bad reputation in some circles for its perception of generating waste and use of fossil fuels. Yet, properly designed product packaging actually helps reduce waste. Packaging can reduce shrink by protecting the product from physical damage. Many food products also have a longer shelf life due to proper packaging. Regardless of perception, one way to improve packaging's environmental impact is by designing for recyclability.
According to our partners at the Sustainable Packaging Coalition, using recycled materials is a "multifaceted opportunity to decrease the environmental impacts of plastic packaging." Using recycled materials helps reduce packaging burden on the environment by:
Using less energy and greenhouse gases (GHGs) than when using virgin materials
Recycled plastic reduces the amount of fossil resources used of the packaging life cycle
Helps reduces the amount of pollution in the environment – plastic can take up to 1000 years to decompose, while paper generates methane, a GHG, when it biodegrades.(https://recycledcontent.org/)
Taking steps to improve your company's carbon footprint also resonates with consumers. A 2019 study by Nielsen found that environmentally-friendly products and recycled packaging are two of the most important qualities in consumer's decision-making. Incorporating this approach can create a true differentiator for your brand, and can help sell your product at a more premium price point.
Benefits of PCR and PCW vs. Post-Industrial
Both PCR and post-industrial solutions are needed in a sustainable economy, but using PCR materials creates added benefits for the environment. The bonuses of using PCR material include:
Creates demand – using PCR materials stimulates demand for consumer recycling programs by driving for more collection and improving the quality of recycled materials. This virtuous circle will, in turn, help to increase the supply of PCR materials. And there is increased supply to be had; in 2017 the recycling rate of PET bottles and jars was only 29.1%.
Diverts materials from landfills – Paper emits methane when it biodegrades in a landfill. Methane is a powerful greenhouse gas that heat-trapping capabilities are 25 times greater than CO2. Landfills are the third-largest source of methane, accounting for almost 19% of U.S. methane emissions. Redirecting paper from landfills could have a major positive impact. The EPA estimates that "recycling one ton of paper reduces greenhouse gas emissions by one metric ton of carbon equivalent (MTCE)" (Source: Recycledcontent.org).
Closes the loop of paper and plastic – Re-using recycled materials extends the material's life cycle, decreasing the use of raw fossil fuels such as petroleum.
Enter ecoCombo®: Utilizing PCR and PCW's Potential
For consumers to see your brand as a leader in your industry, brands need to stay ahead of the sustainability curve. But desires to be cutting-edge can sometimes conflict with budgetary restrictions. A common complaint is that sustainable packaging solutions are cost-prohibitive for brands. That is why Rohrer created the industry's first combo program using PCR and PCW materials.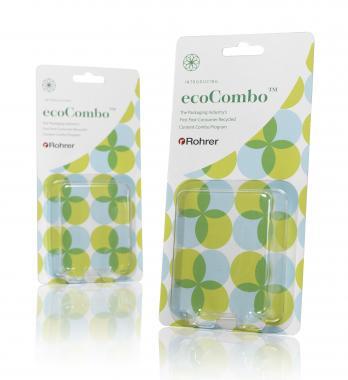 ezComboSM is Rohrer's unique design and manufacturing program that allows the production of multiple parts within the same production. This shared tooling arrangement increases speed and reduces start-up costs and set-up times for all customers. ecoCombo® is Rohrer's new post-consumer recycled blister packaging solution. It offers a new way for retail brands to make sustainable packaging choices in their blister packaging. ecoCombo® allows brands to reach environmental goals, while maintaining the cost benefits of our regular combo program.
Rohrer is dedicated in becoming a leader in sustainable packaging solutions. To learn more about our new ecoCombo®, please visit Introducing ecoCombo®.