Ever since I joined the packaging industry, I've heard a lot of people rag on clamshells. Why? They tell me all the reasons, usually summing them up with a gif from Curb Your Enthusiasm (The one where Larry David is losing his cool while struggling with a package). Our team firmly believes in the value of clamshell packaging. Allow me a few moments to tell you why.
Clamshell Concerns vs. Reality
Concern: Clamshell packaging is frustrating to open.
Reality: Clamshell packaging design provides plenty of security features. Difficult to open means difficult to damage, steal, or tamper with your product.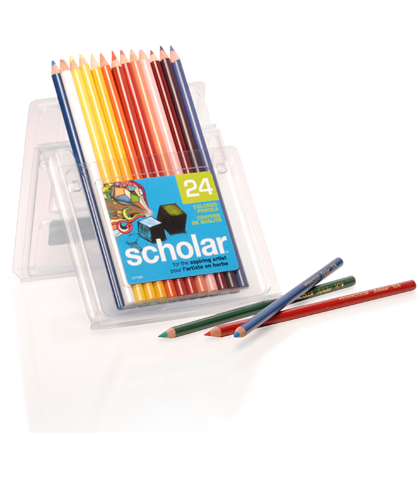 Our design team can incorporate consumer-friendly solutions. Some brands incorporate a full-cut finger notch with a micro-perforated perimeter. Others use an image of scissors with directional signs to show consumers how to cut the package easily. You may even choose to seal in strategic places, leaving some of the perimeter open.
Clamshell packaging also provides security for customers. When we put circular saw blades in a clamshell package, the package protects consumers from injury.
The package protects your products in freight, too. Clamshell packaging encloses your entire product in a rigid shell, which provides a shield for your product during freight.
Concern: I am trying to make sustainable packaging choices, and clamshells use a lot of plastic.
Reality: Material selection is an important part of any brand's sustainable packaging initiatives. To include recycled materials in your clamshell packaging, choose rPET.
Our design team can incorporate the chasing arrows recycle logo on your package. PET is recycling code number one. PET is the easiest plastic to recycle. PVC is also recyclable, and is in number three. Including proper labeling is a great way to keep plastic out of landfills. In addition, you may guide consumers to recycle the printed insert that includes your marketing message.
Rohrer's designers love to design for sustainability. Give them the challenge, and they will help. Our solutions may include reducing the total materials used or increasing the lifetime use of the package by creating a storage solution.
Concern: Designing clamshell packaging can be complicated.
Reality: Clamshell packaging is a tried-and-true packaging solution. Rohrer's design team has won awards for our custom packaging designs! A well-designed clamshell hugs your product and presents consumers a full 360° view of your product, boosting its marketing power. We also offer a variety of stock clamshell designs to save costs and simplify the entire process for some projects. Clamshell packaging design is a flexible solution. We can include hang-holes and we can design the package with feet for stability on the shelf.
There are many great packaging styles available to brands – and chances are, Rohrer makes them. We still love the clamshell package for all the delights it provides our brand partners. Let your product stand out (or stand up). Put it in a clamshell!