A packaging riddle for you: What's cool, 100% repulpable and recyclable, and comes in a variety of colors?
The answer: Cold Foil.
Let's see how cold foil works and why it's such a "cool" printing technique for your packaging.
How Does Cold Foil Work?
The cold foil printing process has been around for about a decade. At Rohrer, we've recently noticed more brands using it to add some eco-friendly "bling" to their packaging.
Here's how it works:
UV-activated adhesive is offset printed onto the substrate on the first printing unit.
On the second printing unit, the foil passes between the blanket and impression cylinder and gently presses the foil onto the substrate.
It's then passed under a UV light.
The adhesive cures instantly and the excess foil is stripped away, leaving a cold foil design or accent only where the adhesive existed.
Cold foil emerges on your printed card, carton or box. Told you it was COOL!
Cold foil is an inline printing process. One pass on the press along with your process or PMS inks and other design elements. You can also print over the cold foil turning it virtually any color you want. Could cold foil get any COOLER?
Are There Advantages to Using Cold Foil?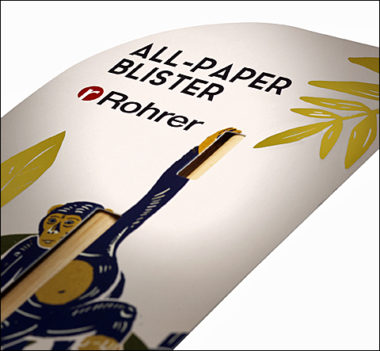 Absolutely! Your brand can get the shiny, colorful look of cold foil with benefits:
It's Eco-Friendly: The beauty of cold foil? It's 100% repulpable and recyclable, depending on the substrate utilized, so you can get the "bling" and stay "green."
Cold Foil Keeps Costs "Inline": Cold foil is an inline printing process. One and done on the press. No custom foil stamps or dies needed, and no additional press runs, saving you time and money.
Get Your "Shine On" in Color: It can be overprinted with CMYK or PMS, which means you're not tied to a swatch book. In essence, you can "tint" the cold foil to yield just about any color.
It Adds "POP" to Your Photos: Utilize spot foil to enhance photos or graphics in specific areas (or add cold foil to the entire image to provide dimension).
It's Elegant: Cold foil is ideal for intricate designs or finer fonts with tight registration.
Go BIG with Your "Bling": Have a large area (e.g., moderate or full coverage of a folding carton) you'd like to cover with foil? Then cold foil is the perfect choice. It covers large areas with ease, and it's a cost-effective alternative to foil laminated board.
Now you can see why so many brands are signing up for cold foil. It's cool and eco-friendly, while adding elegance and dimension to your package design.
At Rohrer, we believe that true partners make the perfect package. Let our award-winning team help you add "bling" and stay "green" with cold foil! Contact us today.