When I say, "clamshell," what comes to mind? Do you think of an oyster?
That's exactly what clamshell packaging is – a hinged container that completely surrounds the "pearl" of a product inside.
Why is Clamshell Packaging So Popular?
Clamshell packaging is popular in the marketplace because it offers several benefits for brands:
It's a Branding Boost: A transparent plastic clamshell allows your product to be clearly visible to consumers. And a printed insert card provides ample billboard space to market your product. Branding boost!
It's Versatile: With most clamshell packaging, if you can imagine it, Rohrer can create it. It can be just about any size and shape. They can even be designed to meet retailer needs – maybe you need "feet" on the bottom of your clamshell for stability on the shelves or hang holes for j-hook displays. At Rohrer, you can customize your clamshell without compromise.
It's Secure: Using a clamshell package provides protection for the product, retailers, and consumers. A custom, thermoformed piece holds the product securely in place to deter tampering and theft. The clamshell also reduces the chance of product damage during transport.
What Types of Clamshell Packaging Are Available?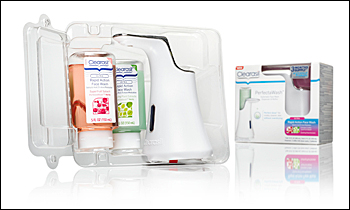 The beauty of clamshell packaging is its versatility – it can be just about any size and shape you can imagine. A well-designed clamshell hugs your product to provide consumers with a full 360-degree view. Clamshells can include feet to stand up on retail shelves and/or hang holes for display flexibility.
Rohrer has won awards for some of our unique clamshell packaging designs. We're happy to help create the perfect clamshell for your product!
Add a Clamshell Insert Card to Boost Your Brand
Adding a paperboard insert card to your clamshell packaging provides ample advertising. The billboard space allows you to showcase your product's features and provide instructions for use.
As your single-source packaging company, Rohrer can create the plastic clamshell, the paperboard insert card, and provide the printing and decorating all in one place.
Wondering if Clamshell Packaging is the Right Choice for Your Product?
Absolutely! Clamshell packaging is a great option for protecting and displaying high-value products. Rohrer has a large, diversified base of consumer product companies across many markets, including, but not limited to:
School and Office
Health & Beauty
Hardware
Electronics
Sporting Goods
Crafts & Hobbies
Toys
Let's add your brand to the list! You'll be in good company.
At Rohrer, we believe that true partners make the perfect package. Our award-winning team of design, print, and thermoforming experts can help you develop an innovative clamshell package for your "pearl" of a product. Contact us today.