Rohrer offers many solutions spanning print, thermoformed and fabricated plastic packaging, making us a one-stop-shop and true partner with our customers. This post will help new print partners avoid common pitfalls through the design process. Sign up for our blog updates to receive our upcoming thermoforming design blog.
A Simple Process
Starting a new project in a new vendor relationship can be tricky. Many challenges can be avoided with clear communication and a defined process. Rohrer's design and artwork services team shared some guidance to ensure a smooth onboarding process for new customers.
When brand owners initiate a new project with their Rohrer sales representative, they'll be assigned an account manager contact on the Customer Service team. Their account manager will use the information provided by the sales representative and direct customer conversations to help identify the project's scope and complexity. Rohrer provides this single point of contact across all packaging types to simplify and streamline our partners' onboarding experience. Getting your packaging right is a critical part of marketing your brand. Working together, we become more than customer and vendor – we become partners.
Often, the success of a project is reliant on the design and print-industry savvy of our partners. Our ideal pre-press process starts when a partner supplies two native Adobe Illustrator files. The first will contain embedded links and outlined fonts. The second will be packaged with live fonts and all links included.
While we answer most questions through the print specs, the account manager may proactively engage the design team when a partner needs guidance understanding our specs or when the project requires collaborative communication about specialty treatments or other complex design work.
Avoiding Common Missteps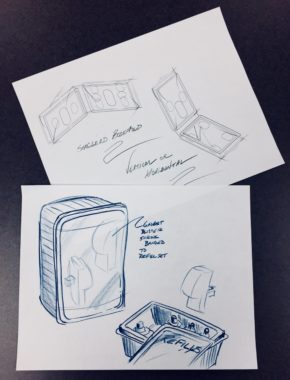 The most common issues with launching a project involve the submitted art files. As noted above, the ideal file format involves Adobe Illustrator. While we accept file formats of all types, any file other than the Illustrator format may cause reduced print quality and/or delays in processing your files for production. For instance, a flattened Adobe Photoshop file with text included will produce pixelated fonts in the printing process, therefore it is not recommended that you submit finished Photoshop files. With the "perfect file submission," we get an editable Illustrator file that will allow us to make simple modifications to your artwork immediately upon your request.
The benefit of following these guidelines is that we can support you more easily. For example, our team can make some last-minute adjustments for partners who submit artwork with corresponding font files. Recently, one of our partners needed some quick type corrections – an adjusted item code and a "born on" date – our team was able to make these small tweaks easily because we had complete files.
The design team's expertise is vast and they are able to offer additional support for partners. We take a collaborative approach, and more significant artwork changes may incur a fee. In talking with the designers, they shared several examples when they were able to support partners through training – giving them the knowledge to make their own adjustments.
Team of Associates to "Make it Right"
Many people work behind the scenes to ensure your project's success. The design and artwork services team starts with a pre-flight review of submitted art to see if the fonts are outlined and the links are embedded. If there are any problems, we'll go back through Customer Service to engage with the brand owner. One of the file-prep technicians will take the file and make it "print-ready" to the specifications of the equipment at Rohrer; a second member of that team will do a quick quality control check to give it an "extra set of eyes."
At that time, it goes out for customer approval. If it's approved, we'll archive the file and confirm the order. Following the customer's order, the design team "un-archives" the art according to the order. Then it will go through the imposition stage to impose those files into the print layout. In the case of an ezCombo℠ project, this may mean fitting the piece within a combo run with many other partners. For custom jobs, there may be multiple of the same project running at the same time. These files are sent to the manufacturing facilities to generate the printing plates.
Tech Improves Partnerships
We will continue to optimize the experience for our partners. Rohrer has been developing a customer portal to help our partners track orders, review files, and pay invoices. Our customers gain easy access to their data. As we explore opportunities, we think that integrating our creative materials platform, Web Center, with our partner's customer information will simplify and improve our ability to support your needs.
The Optimal Experience
We don't expect our partners to navigate our internal processes or to know all the people involved in making their package. Our customer service team is engaged in the process and knows when to rely on internal partners for project remedies. You are welcome to continue using a single point of contact for all your packaging projects.
As you prep the artwork for your new packaging project, refer to the print specs for guidelines. Engage with the customer service team and let us know if you have any questions. You're empowered to ask for some support from our design team by asking your account manager to coordinate a meeting. It's through this collaboration that we become true partners.
The following experts contributed to this report:
Kevin Booth is Rohrer's Manager of Design and Artwork Services.
Jim Gnap is our Lead Prepress Technician.
Tracy Grispino is the team's Artwork Specialist.
---
Want More Packaging Insights?
Subscribe to our blog to get new updates as they are published!