If you visit any drugstore or big box store, you will notice something about the packaging – nearly all of the blister cards are the same shape. A rectangle. They might be a little taller or wider, but anything other than a rectangle is rare. Isn't this odd? Yes, especially considering consumer research shows that packaging drives more than 30% of product decision-making. The shape of your blister card is an opportunity to stand out.
Brands want to attract new consumers and create memorable brand experiences. Packaging design is a great way to build connections with new consumers.
It is the holiday season, and I found myself sucked into a holiday baking show. One of the bakers created beautiful holiday cookies with a cookie cutter he made himself. I couldn't help but think Rohrer makes our own dies – a new die for every blister card combo. We can produce any shape our customers throw at us!
This is an easy way to stand out in the market and attract attention to your product. Consider using a custom die-cut shape to compliment your brand messaging!
Consider the potential of using shapes for your blister card. For example:
Seasonal shapes for the holidays: Add a bow extending beyond the traditional package parameters, design a shape to look like a holiday gift, or cut out a gingerbread family
Comic book effects on toys & games: Bold text or captions can expand out from your product and catch the consumer's attention
Offset hang-hole for design illusion: Our designers can balance an askew product position with carefully placed hang-holes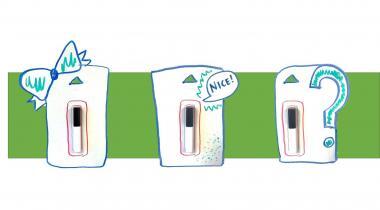 Rohrer creates a new die for every blister card in our ezCombo® program, helping you control costs while elevating your brand. ezCombo® is a shared arrangement that reduces start-up costs and set-up times and increases speed for our customers. We offer the industry's widest variety of buying choices with quantities starting at just 5,000 pieces for blisters, trays, cartons, and cards.
The rectangle shape is a remnant from printers who charged high fees to create new dies. Back then, brands pinched pennies by re-using the same die, and just changing their artwork.
Why do we use the term "cookie-cutter" to describe unoriginal or plain shapes? It should refer to something special – custom, surprising, or attractive shapes. And I say, bring them on! With the right design, you can try something new without increasing your budget.
If I just helped you re-envision a new product launch, consider what you can do with your savings. Rohrer offers a variety of specialty printing options. Foil, spot gloss, or soft-touch all help attract consumers' attention, and help them choose your products. 
---
Are you looking for new ideas? Reach out to connect with one of Rohrer's designers for a fresh perspective!