In every purchase, brands and consumers must find the middle ground. Successful brands find the balance between what drives a profitable company and what inspires consumers to buy their products. For example, virtually every brand wants to offer sustainable choices, but concerns about function and cost have been in the way. Now more than ever, the data shows that consumers expect and demand eco-friendly products. Brands must demonstrate environmental and social responsibility to be successful. How can brands overcome their concerns and make the changes consumers require?
Consumers want to buy from brands that will help improve their environmental footprint. What does that mean?
Futerra asked 1,000 consumers in the USA and UK, "Would you like brands to help you be more environmentally friendly and ethical in your daily life?" 88% of respondents said they do want brands to help them live sustainably.
Consumers are willing to put their money where their mouth is, too. Accenture surveyed 6,000 consumers in 11 countries in North America, Europe, and Asia. The study showed that more than half of consumers would pay more for sustainable products.
NYU's Stern's Center for Sustainable Business published results of their consumer study in Harvard Business Review. Their research from 2013 to 2018 included more than 71,000 SKUs. The data showed that "products marketed as sustainable grew 5.6 times faster than those that were not."
Why haven't brands made bigger shifts towards sustainability? One key way for brands to implement sustainable solutions is through product packaging. But it's hard to change existing packaging programs. What if the new package doesn't perform like our current package? Could the new materials impact our supply chain? What if it's more expensive?
Rohrer helps brands with packaging solutions across thousands of SKUs. We addressed many of our partners' challenges along the way with rPET and paperboard solutions. Custom packaging programs are great for repeatable packages in large volumes, but we make most of our partners' packaging in combo programs. We developed ecoCombo® to provide the same flexibility and speed-to-market as our existing ezCombo℠ programs. ecoCombo® is the industry's first post-consumer recycled materials program for carded blister packaging.
Rohrer performed a variety of tests on our new program to ensure we could provide comparable appearance, function, and speed. We tested the PCW board for print quality and seal strength. The PCR blisters have been tested for clarity and strength. While all of our materials passed internal tests, we are now engaged in third-party testing. This will include reproducing our internal tests, and using lab conditions to test aging and extreme temperatures. ecoCombo® pricing is in-line with standard ezCombo® rates, too.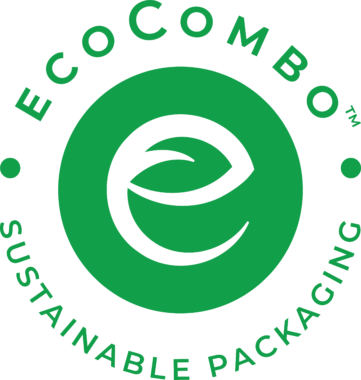 Brands that choose ecoCombo® for cards and blisters have access to Rohrer's exclusive "Sustainable Packaging" seal. Over and over, the data proves that consumers are eager to buy from environmentally responsible brands. The ecoCombo® "Sustainable Packaging" seal allows brands to broadcast their commitment to the environment.
Using and promoting post-consumer recycled materials helps reframe the benefits of recycling. Recycling programs are effective if we support them – not just by putting our recyclables in the right bin, but also by incorporating the PCR materials in our supply chains. Consumers have overwhelmingly demonstrated their desires for brands. We know ecoCombo® works. As an industry, we can ensure more enhancements and innovation when we choose to make sustainable packaging choices.
---
To explore Rohrer's environmental statement, visit our sustainability page. Rohrer is a member of the Sustainable Packaging Coalition®.